Interview: Jason Mewes Talks Acting, Podcasting, and Directing – in St. Louis for 'Jay and Silent Bob Get Old' Live at the Pageant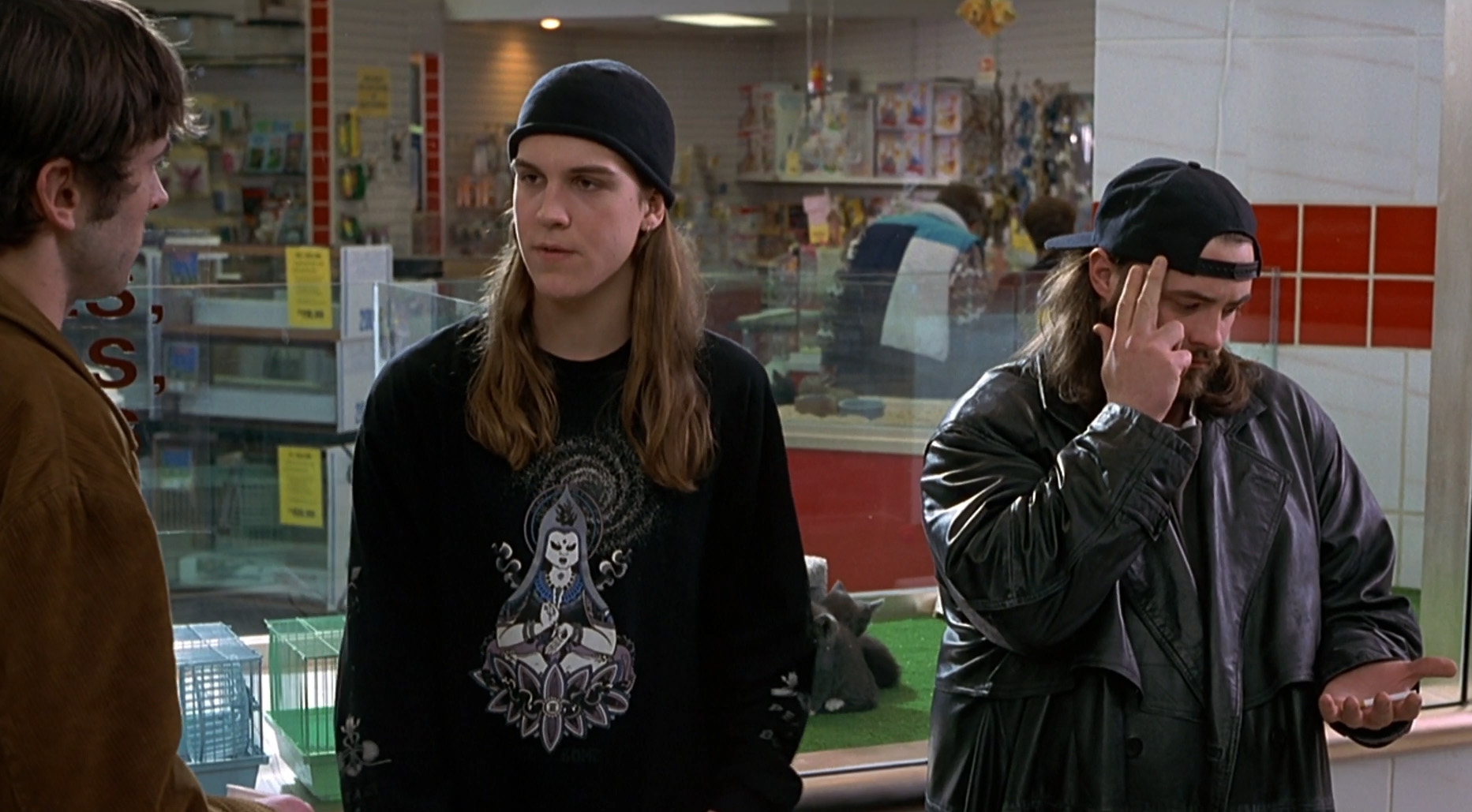 Jason Mewes has come a long way from simply playing "Jay" to his longtime friend Kevin Smith's "Silent Bob." The actor, and now filmmaker, has toured all around the world, speaking at conventions and travelling with his podcasts. Jason was recently in Salt Lake City for a comedy podcast festival, where he did his own Q&A show.
"Kind of like what Kevin does with An Evening with Kevin Smith. I've done it a couple of times and I'm going to start doing it more, where I go out on my own and do my Q & A."
The last time we spoke with Jason was when he toured the country with Jay and Silent Bob's Super Groovy Cartoon Movie, which he produced and took the creative lead on. It has since enjoyed a run on Netflix, and is available on Blu-ray/DVD.
"It was great, because Kevin gave me the script, and said, 'do something with it.' I had a big help from my wife Jordan, and her and I just started working on it. We got the animator, Steve Stark, on board and got the money together. We pretty much did the whole thing by ourselves; of course Kevin helped out a little bit, but it was me and the wife who produced it and got the whole thing going."
Jason and his wife have also experienced the joy of having a child since we last spoke – Logan, their daughter, who just turned two.
"It's awesome. This is the hardest part, leaving her for a couple of days once a month or whatever it's been. As each day passes, she says more words and does something new and different that's amazing. Over the years I've had to leave the wife for three days, or ten days, and I definitely miss her. But the baby it's like, after one day, you start going crazy. It's tough."
She may be a bit too young for most of the Jay and Silent Bob films for a while, but Jason has kept busy expanding his work to voice overs for several cartoons.
"The good thing is we have the Clerks animated series, which was for regular TV, so I can definitely start her off on that. Mallrats, I feel Iike would be the first movie, maybe when she goes to high school. More and more, I've been trying to get some voiceover stuff for some fun, kid friendly cartoons. I could start trying to show her those right away."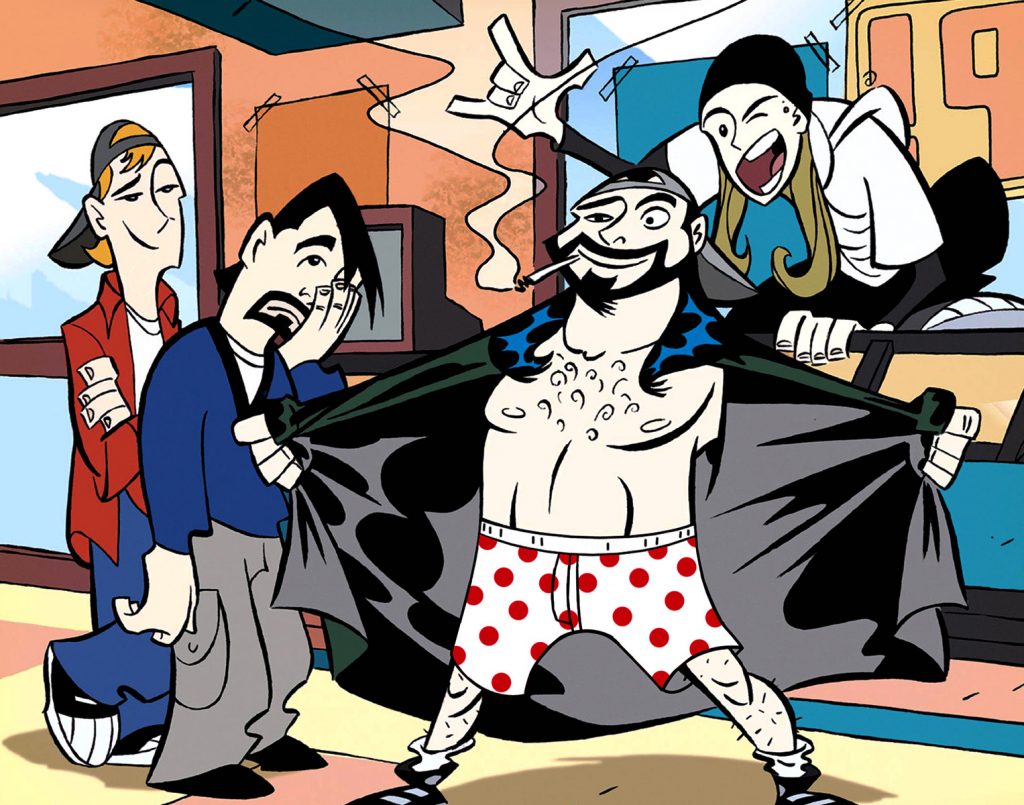 Jay and Silent Bob Get Old, the podcast Jason has done with Kevin Smith for almost seven years now, is approaching 200 episodes for Smodcast. Jason and Kevin will be in St. Louis Thursday, April 19 and Friday, April 20 to perform two more live shows.
"It is surreal to me still that I get to hang out and do something I love. I get to have fun, and get paid to hang out with my friends. Not to mention all the people that have come up. Getting to meet everybody, the fans if you will, who are just so sweet and nice. People have come up who listen to the podcast, and say they been sober now – say six months – because it's been such a big help. I didn't even expect that when we started."
Back in 2010, Kevin came up with the idea to do the live touring podcast with Jason. He figured the best way to keep his long-time friend accountable during his sobriety was to do a show in front of their fans. The two started recording all around the world, and the rest is history.
"If all goes as planned, I do know July 2 is the day, so that will be seven years. I was telling Kevin that I wanted to do a podcast, and he said, 'let's talk about all your stuff, and this way you are accountable to people.' Last time it was five years and I had relapsed. When I had kidney stones, they gave me pain medicine and said, 'look, you have to take this because it will help you pass the kidneys stones.' And that sort of started the beast back up, if you will. At that time I wasn't going to meetings, and really wasn't talking to people about what was going on while I was taking them, so I told Kevin that and he said, 'we'll do the podcast and you can be accountable to everyone who listens.' "
Little did Jason know that he wasn't only doing the show for his own benefit. Over the years, he has had people come up to him wherever they go with stories of their own sobriety. And more importantly what has helped them get through such a tough time – listening to Jay and Silent Bob Get Old.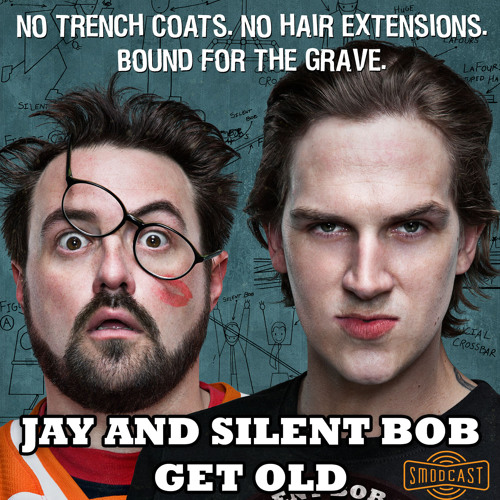 "At first I thought it was just doing it for myself, and being accountable to whoever listens. But I had no idea, again, people would say it helped them. It has been pretty amazing, and it does help me – not that Kevin and my family don't, and all the other reasons for staying sober. But it helps that I don't want to disappoint all of the people who listen, and especially all the people who say, 'I've listened to every episode and it helps me stay strong. I would hate to relapse and then those people say, 'well he relapsed, so I'm going to.' Not saying that would happen, but you never know. So it's definitely a big help, and it's been amazing."
Watching his little show grow from its humble beginnings has been an incredible experience for Jason.
"I've gotten a tour all over, that's another thing. We started in the little forty seat black box theater in LA, moved up to 120 seats at the Lovitz, and then people started saying, 'come to Florida, and 'come to Kentucky,' and now we've been all over. London, Australia, Scotland, Dublin – it's been awesome."
When he isn't doing the podcasts, voiceover work, or travelling to conventions, Jason is keeping busy with several film projects. Last year he starred in Vigilante Diaries, the feature length version of the web series of the same name.
"It was a lot of fun. Me and my buddy put it together, it was an idea he came up with.  And we got to collaborate, and came up with the idea to put the guns on the barrels and all that stuff. And it's cool, because we did it as a web series, and someone saw it and really liked it. Do he ended up giving Christian (the director) money to make it into a full length feature. I got to jump in and do some more stuff on it, and then they went away and did a bunch of stuff. I think it turned out really well."
And now, Jason is working on his directorial debut – Madness in the Method, playing a character based on himself but in an alternate universe.
"It's going really well. We're going to shoot three more days in Los Angeles, so I'm very excited about that. The producers are from London; I did a movie called Devil's Tower years and years ago, and the producer of that (Dom Burns) and I really hit it off. I was only out there for about a week to do this small role, but him and I were chatting about stuff I'd want to do. And I told him how I really wanted to direct. I had directed a couple of music videos, a short film, and a PSA – but I told him I really wanted to direct a feature. And he said, 'that's awesome, I write' – he's mainly a writer – but he was producing this movie. And he told me he would write something. Sometimes people say that and they get busy, which I understand, and they don't really get to it. But about three or four months later, he sent me a script. And it was awesome. I gave him some suggestions and he did some rewrites. After about three months of that, he said, 'I raised money and I have enough to make this movie.'
And having been in the business for so many years, the first-time director had no problem getting some big names to star alongside him in the film.
"We got a bunch of cool cameos: Judd Nelson, Kevin, Danny Trejo… Stan Lee makes a cameo! Dean Cain, Teri Hatcher, Vinnie Jones, Gina Carano. It was really awesome, and a lot of fun. We have an editor who's putting it together now. We're going to shoot three more days, and then I'll sit down with the editor and start putting them my two cents. Then we'll see if we're going to get it into festivals, or what we're going to try to do. So all is well. I'm very excited, and very happy with everything."
It certainly has been an unexpected, yet incredibly rewarding journey for Mewes during his career.
"This whole thing, the whole experience since beginning has been surreal for me. Kevin was like, 'I wrote you in this movie, Clerks," And I was like yeah, whatever, so we shot Clerks and I went back to work roofing. And then he's like, 'I wrote you into another movie, Mallrats, and that is sort of when I first said, 'wow, this is a real movie,' and 'I can't believe I'm doing this.' But I went back to roofing again, and construction and delivering pizza. So it's sort of like the first two movies were just, 'okay, Kevin wrote me in a movie,' and it wasn't until after Drawing Flies, and I did another independent movie, that I realized this was something I could do. So point is that this is all surreal to me, still to this day, that people have been coming and following the podcasts for so many years. And that I'm still making movies."
Jason Mewes and Kevin Smith will be performing live at The Pageant April 19 – 20. For more information about Jay and Silent Bob Get Old in St. Louis, visit thepageant.com.