Interview: Eric Bischoff Talks WCW, WWE, and "83 Weeks" Podcast Live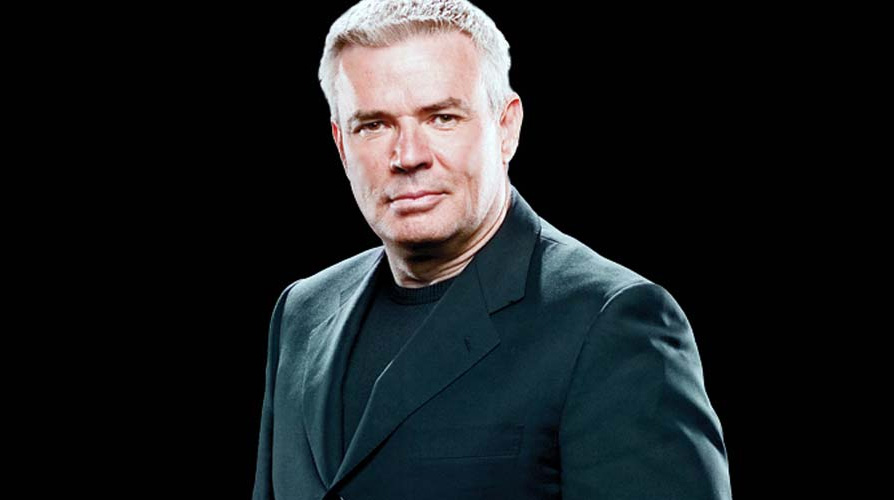 It's been 20 years since World Championship Wrestling (WCW) and World Wrestling Federation (WWF) engaged in the Monday Night Wars, but it's an era that lives on in the hearts of wrestling fans all over the world.
One of the men responsible for WCW nearly taking down WWF, and actually dominating Vince McMahon's company for 83 weeks, was Eric Bischoff. After pushing WWF to the limits with the creation of the New World Order (NWO) and wrestling legend Bill Goldberg, Ted Turner's WCW was eventually overtaken in the ratings and purchased by McMahon putting an end to the Monday Night Wars.
After the demise of WCW, Bischoff was a regular fixture as a general manager of Monday Night Raw after McMahon rebranded the company, naming it World Wrestling Entertainment (WWE). From 2002 to 2005 Bischoff feuded with McMahon and WWE stars such as Stone Cold Steve Austin, Chris Jericho, and many others. He appeared on WWE TV sporadically from 2006-2007, eventually heading over to Total Nonstop Action Wrestling (TNA) where he negotiated a deal with the company, himself and Hulk Hogan. Bischoff was a regular fixture on TNA from 2010-2012. He made a return to WWE in 2016, when the company released a documentary DVD on him. He also inducted Diamond Dallas Page into the WWE Hall of Fame on March 31 of that year. In January of 2018, Bischoff appeared on Raw 25 with a segment featuring former Raw general managers.
Bischoff is still a prevalent figure in the world of wrestling, as he does a weekly podcast called 83 Weeks with Conrad Thompson. The podcast chronicles the 83 weeks that WCW engaged in the Monday Night War's with WWF. The duo will be appearing at Off Broadway in St. Louis on Saturday, February 23 for a live show of their podcast.
"The podcast was really more of Conrad Thompson's idea," Bischoff said in a phone interview. "Conrad's idea was different than I would have thought about. He believed that there was an audience for the detailed background of the time period that was known as the Monday Night Wars."
Bischoff admits he was hesitant to do the podcast at first.
"I wasn't confident in that," he said. "My original reaction to that was the Monday Night Wars and that era had been talked about and books had been written, DVD's had been done. It had really been covered to death. I didn't really think there was an audience for it anymore, but Conrad was convinced there was, especially with the format he had in mind. He was having so much success with Bruce Pritchard, that I decided to trust his judgment as well as my own."
The 83 Weeks podcast has been a hit from the start.
"It really kind of took off from the getgo," Bischoff admitted. "From that success, Conrad believed that a live version, where we let the fans be part of the show and ask questions, and we have a lot of interaction with them was kind of a natural extension of the podcast. That how it all kind of tied together."
The decision to bring the live show to St. Louis was an easy one for Bischoff and Thompson.
"I know St. Louis. I've worked there many, many times throughout my time with WCW and WWE," he said. "When they threw it my way, I was like oh hell yeah we will go to St. Louis. It's a great wrestling market. We will have a blast there and the barbeque is really good."
Bischoff was surprised to learn that WCW Monday Nitro still holds the Missouri state record for the largest crowd at a wrestling event. The show aired from the Edward Jones Dome in 1998 with an attendance of over 32,000 fans. The attendance may have been even larger if not for an ice storm that hit that December evening.
"Wow, I didn't even know that," Bischoff said. "Well, then we should have one hell of a turnout on Saturday, February 23!"
The wrestling world is currently the healthiest it's been in years, leading to a new company, All Elite Wrestling (AEW) opening shop. The company is backed, financially, by Tony Khan, son of the Jacksonville Jaguars owner, Shad Khan. He has invested $100 million, as wrestlers Cody Rhodes and the Young Bucks have signed two of the industry's hottest superstars in Kenny Omega and Chris Jericho. Rumors are currently swirling in the wrestling world that several WWE superstars could be leaving the company to join AEW, which features a lighter work schedule and the same, if not more pay along with health insurance for wrestlers.
Bischoff admitted he is like most fans, in that he has heard the news and rumors, but has no inside information.
"I have no information, so I'm just like you and everybody else. I'm a fan on the sidelines," he said. "From the distance, here's why I think everybody should be optimistic, Cody and the Bucks did an unbelievable job of creating buzz and generating interest in their event back in September."
In September, Rhodes and the Bucks put together "All In" from Sears Arena in Chicago. The event sold out in 27 minutes. The 11,000 fans filled the arena, in what was the largest independent wrestling show of all-time.
"They sold out a 10,000 seat arena in less than 30-minutes, generated over a $1 million in pay per view, and they did it without a minute of television. That cannot be undervalued in any way, shape or form. That was a monumental achievement. I don't know if we've seen the apex of independent wrestling, but Cody and the Bucks are at the top and timing is certainly on their side."
In today's wrestling world, social media has become another tool for wrestlers to use in order to get over with fans and Rhodes and the Bucks have used it to their advantage.
"They have used social media in a very sophisticated and effective way," Bischoff said. "All of that is going in their favor and cleary they got a great funding partner."
Bischoff, speaking from personal taste, said he would like to see AEW embrace the underdog role.
"I would like to see them galvanize their support because they are the new kids on the block and because they are the new company," he sai.d "They've got a long, hard road ahead of them and if they embrace that role, I think fans will be more likely to want to be a part of that journey and become even more loyal than they already are."
Wrestling fans all over the world are discussing the possibility of AEW competing with WWE, but Bischoff scoffs at.
"Questions like that are really silly, no offense," he said. "WWE is four generations old, they've been a staple, at the top of cable television for the last 25 or 30 years. For anyone to suggest that AEW or any company can compete with WWE is setting themselves up for unrealistic expectations."
While Bischoff shoots down the idea of AEW competing with WWE, he said he believes the company can still achieve success.
"That being said, I'm 100% confident that they can be successful," he said. "I think everybody needs to take a step back and check themselves. It's not going to be the Monday Night Wars. The Monday Night Wars happened because we literally went head to head with them. Two of the most powerful cable companies in the world went head to head. That's not going to happen with AEW. They will not get the same time slot as WWE."
Bischoff went on to say that just because the Monday Night Wars cannot happen again, that does not mean AEW can't be successful.
"Look, anytime you got a guy with $100 million, who will write checks to talent, you're going to have a lot of interest from talent," he said. "We've heard the rumors that some talent from WWE are choosing not to renew their contracts and explore options with presumably AEW, but we don't know for sure, but we will find out in the weeks and months to come."
Bischoff will also be appearing at Starrcast 2 in Las Vegas over Memorial Day weekend, the event that leads into AEW's first show, Double or Nothing on May 25 at MGM Grand Arena. He will also be in New York during Wrestlemania weekend making appearances.
Right now the hottest story in wrestling is the feud between Becky Lynch and former UFC star Ronda Rousey. Having only been with the company for 13 months, Rousey has become one of the company's biggest stars. Lynch has also skyrocketed to fame, becoming a fan favorite on the verge of superstardom. The two will face off at Wrestlemania 35 in the main event. This will be the first time women have headlined Wrestlemania, making it a historic match and event.
Bischoff said that WWE's decision to train women wrestlers exactly like the men is a smart decision and one that has not only attracted new fans but will continue to build the WWE brand into the future.
"That goes to the state of wrestling, but it also goes to the state of society," he said. "One of the biggest challenges you have on television is attracting advertisers because they don't understand wrestling. I think one of the things that WWE has done so successfully is to change the fact that up until 5 years ago, a wrestling audience was typically 75% male. Now, you have enhanced your demographics. It's a very smart move because advertisers are probably more willing to advertise now that more women are watching. Instead of it being 75-25, it's probably 55-45 and the closer it gets to 50-50, the more advertisers will want to work with the company. It was the natural thing to do and the right thing to do for business."
As far as the storyline and booking of Rousey and Lynch, Bischoff said it's some of the best he's seen in a long time.
"What they are doing with Becky Lynch and Ronda Rousey is as good as anything I've seen in almost 20 or more years," he said. "Becky Lynch is just phenomenal. She's found her character and her voice. I think she's doing an amazing job. I think the same of Ronda."
Bischoff compared Rousey's rise to fame in WWE to the rise of Bill Goldberg and The Rock.
"Other than one or two people who had the good fortune of timing, with the stars being aligned perfectly, Bill Goldberg being one of them, and Dwayne Johnson being the other, I can't name one wrestler who didn't spend 8-10 years perfecting their craft. Ronda has done that in 13 months and that's amazing to me. With what she's done for WWE, she's got an amazingly bright future."
Bischoff is responsible for the creation of the NWO, which was at the time the most popular stable in wrestling. Its lasting effect on the business is still seen today, as fans still can be seen wearing NWO shirts.
While the creation of the NWO has been discussed for years, Bischoff set the record straight on how the stable came to be.
"Everybody and their mother has put in their two cents and 99 and nine-tenths percent don't have a clue," he said. "Ideas are an evolution. It's a process. It's not like I woke up one morning and said ok, here's what we're going to do. We're going to have two guys who are leaving WWE and are going to WCS with a chip on their shoulder because they didn't like how things were going when they left and now they are going to enact revenge. That's the foundation the NWO is built on because it's a real and believable premise."
Scott Hall and Kevin Nash had both worked for WCW before hitting it big in WWF. Nash portrayed the characters Vinnie Vegas and Oz, both of which were unsuccessful in garnering a following.
"He got frustrated and went to WWE and became a star," Bischoff said. "Scott Hall had a similar story. So when those guys left WWE and came back to WCW to take revenge on a company that didn't give them the respect they deserve, that got a lot of street cred."
Bischoff spent a lot of time in Japan during the couple years leading up to the creation of the NWO. While many have said he took an idea he saw over there and copied it, Bischoff said that's not true at all.
"That's really asinine, that's not true at all," he said. "What I did do is spend a lot of time in Japan and studied the difference in the way the Japanese promoters treated and presented the product with how it was in the United States. You have to put yourself back in 1994 and 95. In the U.S. at that time, wrestlers were being presented as psychotic dentists, IRS agents, clowns, and all kinds of goofy ass kiddie characters. WCW was no different by the way. We had the ding dongs and all kinds of silly horse shit that everybody else was doing."
At that time, while he was in Japan, Bischoff said the stories were believable and people bought into them. Wrestling was frequently the top stories in the sports section of newspapers.
"The media in Japan treated it very legitimately," he said. "Where in the United States it was treated as a circus."
Bischoff said his goal was to make the WCW product believable and by coincidence Hall and Nash became available.
"They went to the WWE and became hugely successful and came back to WCW and it became a believable storyline," Bischoff said. "I'm not going to give them nicknames and blend a little bit of reality with a little fiction, as opposed to all fiction. It was two or three years of studying and literally opportunistic. I didn't know Scott and Kevin were going to leave WWF."
Bischoff said that if it were not for the NWO, the Monday Night Wars never would have happened.
"WCW wouldn't have been able to beat the WWF at that time," he said. "That storyline, that angle, whatever you want to call it, it was a change in the paradigm of wrestling. It went from being silly, goofy shit to something that 18, 30 and 40 year-olds were talking about at work because it was so believable and we were doing things so differently. None of that would have happened if not for the NWO storyline. It changed the industry forever."
Bischoff credits the Monday Night Wars with enabling the WWE to be where it is today.
"I think the fact that Vince McMahon dug in and decided to fight for all he was worth is one of the reasons the Monday Night Wars was so exciting and the ratings were making headlines every week," Bischoff said. "I'm probably giving myself a lot more credit for their credit than I deserve, but I really believe that the Monday Night War era and the impact it had on our culture, on the wrestling fans, and more importantly on the business side is the reason we are still watching WWE today. Because if not for the NWO and the Monday Night Wars, I'm not so sure we'd still be watching today."
A moment in WCW and NWO history that will forever be remembered by wrestling fans is the moment that Hulk Hogan dropped the red and yellow and stopped telling fans to say their prayers and eat their vitamins, joining forces with the NWO and adopting the moniker Hollywood Hogan. It's a moment that most wrestling fans will remember forever. It's a moment that Bischoff was responsible for creating.
"That's a really interesting story," Bischoff said. "A year or so before Hogan turned heel, I went down to Tampa to see him and try to convince him to turn heel. The red and yellow Hulk Hogan, he came in 1994 and we were able to ride that for a while. It was pretty obvious to everyone it wasn't 1988 or 1990 anymore. I don't want to say the audience cooled off on Hulk, but they were lukewarm. The audience had, for the most part, had their fill. I went down to Hulk's house and tried to convince him and he wasn't ready and he was absolutely right. It wasn't the right time."
After Hogan turning Bischoff down, Bischoff looked to Sting to make the heel turn.
"Hulk didn't throw his hat in the ring until Nash and Hall were involved," Bischoff said. "I flew out to L.A. to see him on a movie set and I asked him who he thought the third member should be and he looked at me, stroked his fu man chu and said, 'It should be me, brother.'"
Hogan's heel turn is considered by many wrestling fans and historians to be one of the most shocking moments in the sport.
Having worked in three wrestling organizations – WCW, WWE, and TNA – many still wonder if Bischoff thinks about getting back into the wrestling business, and if there is a perfect scenario where he would make the jump back into it.
"Of course, I love the business. I love aspects and the creative side," he said. "I love working with young talent and think I'm pretty freakin' good at it. I don't miss the travel. At this stage in my life, I'm not going to be flying all over the country, being a producer of Monday Night Raw. I love being at home. I've worked my whole life to have a beautiful home and I love it here. Is there a situation, sure, of course. Is it likely? Probably not."
With Wrestlemania around the corner, I asked Bischoff if he thinks he would ever be inducted into the WWE Hall of Fame. He said he gets that question a lot this time of year.
"I'd be lying if I said I didn't think about it," he said. "I honestly don't know and I want to be clear so I don't give anyone the wrong impression. I would be flattered and proud. We all like to be recognized by our peers for the things we've done. But, there's also a part of me that's also uncomfortable with the idea. I have a hard time thinking about myself in a hall of fame with guys like Randy Savage, Brett Hart, Ric Flair, and Hulk Hogan. Those are the big names that come off the top of my head. I'm not a wrestler. I didn't sacrifice the kind of things the performers, talents, superstars did. I don't think of myself, in the same way, I think of them."
Bischoff did say his favorite part of Wrestlemania weekend is the Hall of Fame ceremony.
"For me, that's real emotion. Most of the people being inducted know their career is almost done and they are being recognized by their peers and that means something," he said. "It was very real emotion and I love that. I'd go every year and sit in the front row at the WWE Hall of Fame ceremony and then I'd probably slip out the back door and nobody would see me."
At the end of our conversation, I asked Bischoff what fans should expect from his 83 Weeks Live show on February 23.
"That's really the cool thing about these live shows is that they change and evolve and get a little more interesting," Bischoff said. "It's 50% comedy and 50% fact. Conrad and I play off each other and it's genuine and real. Live events heighten it. You put me in front of a live crowd, I feed off of that crowd. The energy is different. You're going to get massive amounts of laughter. You'll get stories that you've never heard before. Some they will laugh their asses off with, some they may learn something. It's like half comedy, half wrestling university of knowledge, depending on how you want to look at it."
Tickets are still available here for 83 Weeks Live featuring Bischoff and Conrad Thompson at Off Broadway on Saturday, February 23.