Review: Interpol Rouses The Pageant With A Balanced Set Of Classics and New Material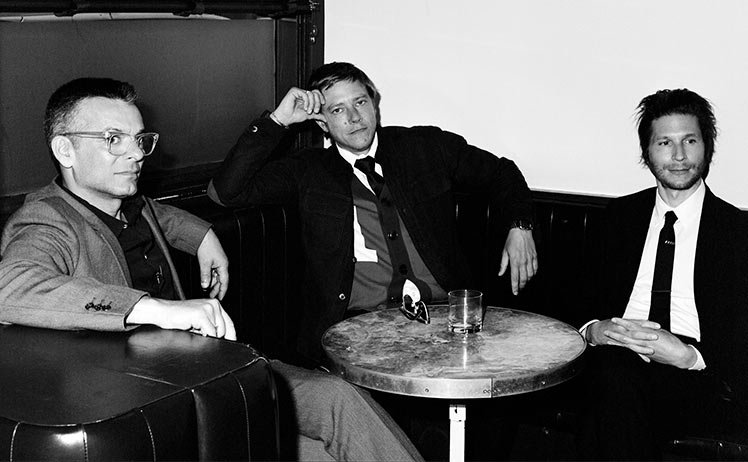 In September of 2002 an emerging band called Interpol rolled into the tiny environs of the now defunct Rocket Bar, clad in black and oozing a confident New York cool. From that point on, the band knew that they had won the adoration of St. Louis.
Fast forward seventeen years later to a cold Saturday night, the band once again found themselves in the Gateway City playing their uniquely urgently desperate post-punk sound to a receptive crowd.
Stepping into the darkness they remained confident and self-assured as they performed a carefully curated set of songs collected, in mostly equal measures, from last year's Marauder, 2004's Antics and their critically heralded 2002 debut Turn On The Bright Lights.
In a night filled mostly with smoke and darkness, the band utilized their light show to great effect, swaddling the floor and balconies of The Pageant with bursts of strobes ricocheting between not one, but three disco balls that perfectly punctuated the brooding atmospherics served onstage.
Despite playing cavernous venues as openers for U2 and The Cure it is within the confines of smaller venues that the band appears to be most at home. Going about their business with brutal efficiency,  Interpol's set found skillfully meshed the fragile and aggressive aspects of their personality.
Opening with Pioneer To The Falls, Interpol wasted no time in taking charge of the proceedings by serving up C'Mere and Public Pervert before delving into fan favorites, Roland, NYC and blistering versions of Take You On A Cruise, Not Even Jail, All The Rage Back Home and Slow Hands.
Providing their audiences with plenty of opportunities to exhibit exuberant hand clapping they fearlessly sprinkled in compositions from Marauder. From rousingly energetic versions of recent singles, Number 10 and The Rover to a scorching Say Hello To The Angels and subdued If You Love Nothing, it is clear that the band has set their sights on returning to the denser sound of their first few albums.
Overcoming some initial sound issues and a voice that at times wavered (possibly from a cold) frontman Paul Banks was nonetheless comfortably entrenched amidst a dirge of swirling guitars, their patented staccato basslines and sharp percussion. Never straying afar from his microphone center stage, Banks was every bit the elusive presence he's been for nearly two decades.  Offering little interaction with the crowd he instead let the music and his emotionally intense songwriting speak for themselves.
Guitarist and vocalist Daniel Kessler was the perfect accomplice for Banks, bringing a boundless energy and fierce swagger to the set. Framing every song was Sam Fogarino on skins. His vigorous, persistent and driving drumming helped rouse the crowd to its feet throughout the evening.
After an unrelenting set, Interpol didn't let off the gas with their encore. Offering a delicately melancholic version of Lights they moved onto two favorites from their catalog Evil and Obstacle 1.
Returning to St. Louis for the first time since their Duck Room gig last September, Brooklyn based three-piece Sunflower Bean opened the show. Supporting their new EP, King of the Dudes, their all-too short set showcased both Julia Cumming's incredible voice and the band's seemingly intuitive knack for climbing a wide range of musical edifices, including pop, blues and indie influences