Interview: Darrin Vincent From Country / Bluegrass Duo 'Dailey and Vincent,' Playing Grandel Theatre June 3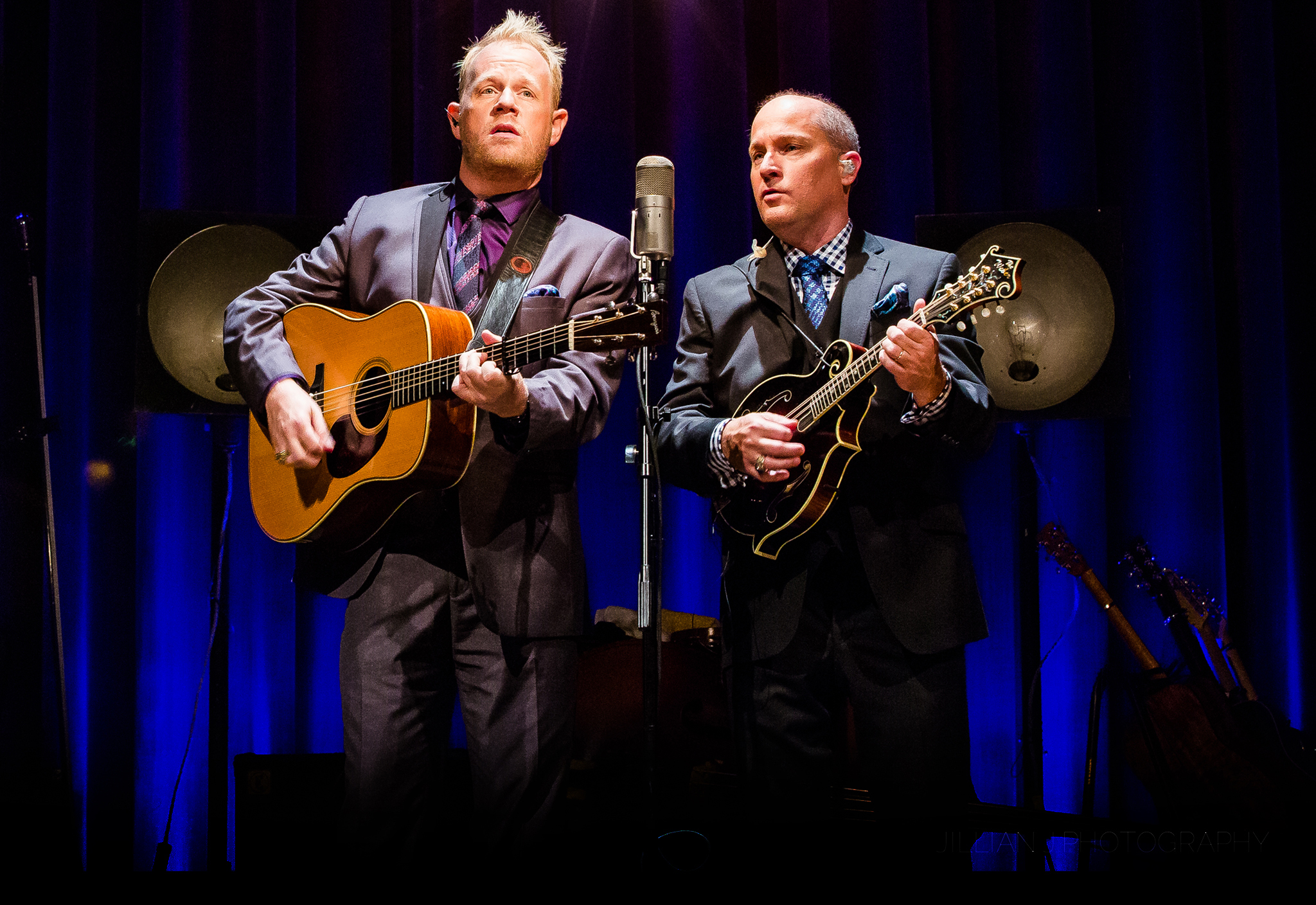 Award-winning country/bluegrass duo Dailey and Vincent will be performing at The Grandel Theatre on Saturday, June 3.
The duo has also won five Dove Awards to go along with 35 IBMA Awards, including three-time IBMA Entertainer.
Dailey and Vincent garnered worldwide attention with their television show, 'The Dailey and Vincent Show' on RFD TV. The pair are currently touring in support of their album 'Patriots and Poets.'
Dubbed by CMT as the "Rockstars of Bluegrass," the Dailey & Vincent duo has been hailed throughout the music industry as one of the most exciting, reputable and elite Bluegrass bands in America, having won numerous awards for their uniquely contagious and riveting music, including: three Grammy Award Nominations for the 2014 "Bluegrass Album of the Year;" 14 IBMA Awards (International Bluegrass Music Awards) as three-time "Entertainer of the Year," three-time "Vocal Group of the Year" and "Album of the Year" and four Dove Awards with three "Bluegrass Album of the Year" awards and "Bluegrass Song of the Year."
ReviewSTL recently caught up with one half of the duo, Darrin Vincent to discuss the group's upcoming show and much more.
What can fans expect from your upcoming show at The Grandel on June 3?
Well, they can expect to hear some new songs off our new CD, Patriots and Poets. We'll bring our band down there and we're going to do some new stuff and entertain folks. We'll have some great music and entertainment, something you can bring the whole family to. We want to invite everybody out to join us. We haven't been to St. Louis for quite a while, so we're excited to play for the people there.
You started in music at a very young age. What type of effect did being involved and around music have on you growing up?
I was on stage singing at three-years old. I grew up playing music with my mom and dad and we were from Kirksville, Missouri. It's been part of my family's heritage. I think I was the fourth generation. It's really impacted our lives. To play music from age 3 to now, and to have our own TV Show and be the newest members of the Grand Ole Opry, it's very fulfilling and really bigger than any dream I could ever imagine to come true. It's been amazing.
Can you talk about playing at the Grand Ole Opry and how much it means to you?
I played there in 1989 for the first time. It was just one of the biggest honors in my musical career. I grew up listening to WSN Radio and the Grand Ole Opry. To step on the stage where so many greats have graced the stage like Patsy Cline to Hank Williams and even Elvis Presley was an honor. It's one of the biggest honors in music. It's the biggest honor that can be bestowed upon you, I believe. Being a member of the first family of country music is just, wow! We're just so blessed.
With country music's sound changing to more of a pop-country sound, how has that changed the way Dailey and Vincent play music, if it has at all?
While the sound has changed, the people who listen to our music, young and old, like our music because it's the more traditional style of music. Bill Monroe started bluegrass back in 1939 and was the father of bluegrass. He's in the Country Music Hall of Fame, the Bluegrass Hall of Fame and the Rock N' Roll Hall of Fame. He's had an influence on every type of music. I think that the acoustic music that we do, even with the changing of the tides now, I think people like migrating back to the original music of America. That's why people enjoy our type of singing, because we are more of a rootsy sound.
Having toured in Europe and all over the U.S., what is the biggest difference in playing in Europe as opposed to the U.S.?
I think America is very blessed to have many wonderful players. I don't think that Europe gets as much of that type of entertainment like we do here, especially the roots type of music we do. That's just my opinion, I don't know it to be fact.
With a hit TV Show, what was the biggest transition you had to make going from music to television?
Trying to keep the flow of the show going. When you're on camera, you sit around and get makeup. When the camera is recording you have to be on your game. That's really hard. To be exciting and energetic in a moments notice can be challenging. In a performance it's just easier to interact with the audience. TV is completely different. It's pretty much you're on and when it's over, it's over, you're done. We've learned how to make the TV show flow better for the viewers at home. There's an art to it.
Of all the artists you have worked with, is there one that stands out as one of your favorites?
I spent 11 years with Ricky Skaggs, he's one of my all-time heroes to be around. He's wonderful. I think one of the biggest icons that I've been blessed to be on a record with is Dolly Parton. I don't think that anyone is bigger than Dolly. She's just so down to earth. We can have a conversation just like normal folks. She is an icon of America. She's just such a nice person.
How has internet and social media affected your musical career?
I think it's been a lot of social media. Facebook, Twitter, Instagram is more of a direct relationship with the fans. It's more one on one, where I think before it was more of an in between with the record label and the public. It's harder to have your own privacy with your family. I think it's nice for the fans to have more interaction. I think a lot of people like to have access to the stars and that's why we do meet and greets. People want the one on one experience.
When you are not making music, or performing, what do you do in your free time?
I've been married for 28 years and we have four children. My son is graduating in a couple weeks, so we are getting ready for that. I have a couple kids in college right now. We were just at a softball game last night, watching my son's girlfriend play. Then, he had a game. My family definitely keeps me busy and I enjoy spending time with them when I'm not making music.  
---
Jamie Dailey and Darrin Vincent will play The Grandel at 7 p.m., Saturday, June 3. Tickets are now on sale through MetroTix.com. Prices are $50 for balcony, $60 for orchestra, and a VIP ticket for $75 that includes seating in the first three rows, meet and greet and photo with the band, an autographed copy of their new CD, and the option to buy VIP parking for an additional $5.