Rumor Mill: "Indiana Jones" Heading Back to Theaters in 3D?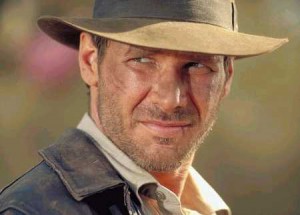 Just last month Lucasfilm announced that they would be releasing the Star Wars films in 3D. (Read our article here. )  Now rumors are flying about that Lucasfilm's second most famous trilogy, the Indiana Jones series, will be making its way to 3D as well.
Currently, the rumor says the films will be announced next month, and that Raiders of the Lost Ark will be the first film produced in 3D.  However, nothing has been confirmed by the studio.
It should be noted that Lucas will have to get approval from director Steven Spielberg before the films can go through. They have an equal partnership on the film series, and Spielberg is what could throw a wrench into the plans.
I'm just not sure what is with all the hype of converting classic films into 3D. I'm not convinced that the run of the film will offset the cost of the reproduction and conversion costs.
What do you think? Let us know in the comments!