George Lucas and Lucasfilm Re-Releasing "Star Wars" Trilogy as 3D Film in 2012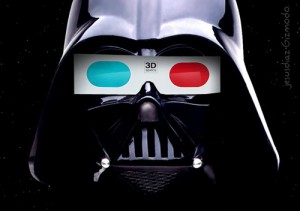 Back in 2005, both Kevin and I attended Star Wars Celebration III, and while we were there we were lucky enough to be in the audience for a George Lucas Q&A. Among the things he talked about were a 3D animation television show (Clone Wars), a live action TV show that has yet to surface, and the re-release of the beloved trilogy in 3D.
Now, there is something you must understand, this announcement created a lot of excitement in the crowd. At the time the idea of digital 3D was still pretty new, and we had yet to be treated to the glut of 3D material we have been subjected to over the past year. This announcement was beyond amazing, fans would finally get to see all the movies in theaters again.
Cut to 2010, and now Lucas has officially announced that the films will see their 3D re-release in 2012, to celebrate the 35th anniversary of the Star Wars Saga.  Lucas has been said to have been waiting until theater tech caught up, and enough theaters had the technology to display 3D. With a sizable amount of theaters equipped for 3D, it appears the time is hear for the re-release.
Now, here is the bad news. The first release will be Episode I: The Phantom Menace. Each subsequent film will be released each consecutive year, as long as the grosses for the films stay high. Apparently the conversion process takes about a year, and Lucas will be over seeing the process himself.
Starting in 2012, you should be able to get a Star Wars fix in theaters for the next six years, as long as the grosses are there.
What do you think? Is this a mistake? Are you excited for a 3D re-release? Let us know in the comments!