Image Expo 2013: Rick Remender Returns with "Deadly Class"
Superstar writer Rick Remender returns to his creator owned roots in 2014.  Remender teams with rising star artist Wesley Craig with his newest creator owned comic in 2014.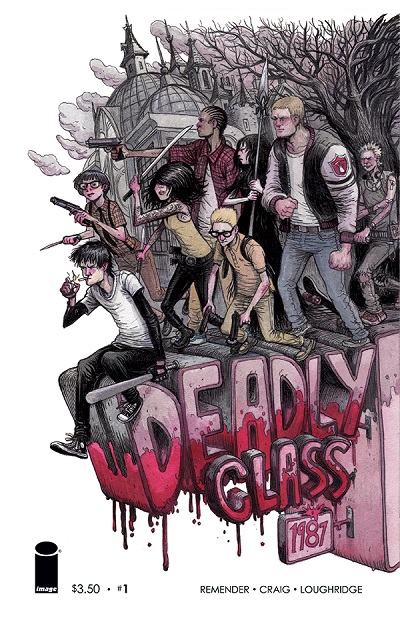 DEADLY CLASS #1
Story by Rick Remender
Art & Cover by  Wesley Craig & Lee Loughridge
It's 1987. Marcus Lopez hates school. His grades suck. He has no money. The jocks are hassling his friends. He can't focus in class, his mind constantly drifting to the stunning girl in the front row and the Dag Nasty show he has tickets to. But the jocks are the children of Joseph Stalin's top assassin, the teachers are members of an ancient league of assassins, the class he's failing is "Dismemberment 101" and his crush, member of the most notorious crime syndicate in Japan, has a double-digit body count. Welcome to the most brutal high school on earth, where the world's top crime families send the next generation of assassins to be trained. Murder is an art. Killing is a craft. At King's Dominion high school for the deadly arts, the dagger in your back isn't always metaphorical, nor is your fellow classmates poison.
Join writer Rick Remender with rising star Wesley Craig (Batman) and legendary colorist Lee Loughridge (Fear Agent), to reminisce the mid's 1980′s underground through the eyes of the most damaged and dangerous teenagers on Earth.
This is the kind of thing that is in Remender's wheel house. His work at Marvel has been nothing short of great, but it's always a blast when a creator gets to cut loose and go to work on their own project.
Stay Tuned for more news!!