See 'The Illusionists – Live From Broadway' at the Fabulous Fox Theatre This Weekend. Interview with "The Inventor" Kevin James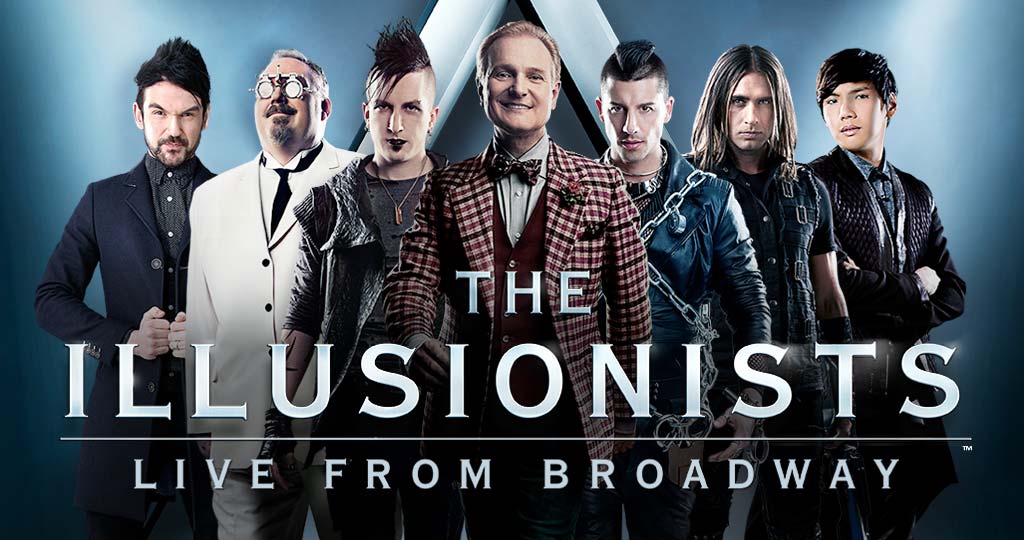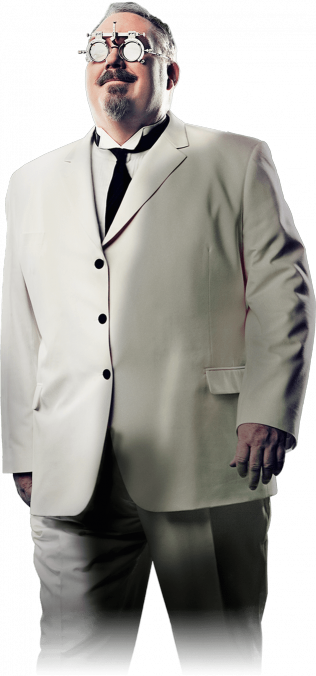 Kevin James has been performing magic since he was 10 years old.
"I saw magician perform at my elementary school, and was enamored by it."
He grew up in a small town with a population of two-thousand, and no magicians.
"It was me and six library books for some time. And then Doug Henning started to become popular on TV, and he sealed the deal. At that moment, I knew that was what I wanted to do for the rest of my life."
Like most magicians, Kevin started out as an amateur for his friends, family, and anyone who would let him perform for them. Eventually he would graduate from birthday parties and the Lions Club, as he moved on to bar-tending magic and corporate events. But he soon realized the real magic education was waiting for him in Los Angeles.
"Once I got out there, I realized that I didn't know anything. I was trying to network, and develop the product. I saw as much as I could, and tried to make a living at it."
Thinking back on his career, the magician recognizes that landing a gig in Paris was the real beginning of his professional career.
"I was working at the Crazy Horse in Paris. Once you got to that point, you didn't even have to send out your promo video anymore. That kind of gave me a stamp of approval. And that's when I started to really feel like a pro."
Kevin has done some international television before Paris, but it was always a goal to play the Crazy Horse. After giving his video to a friend who worked there for months, it wad a French television show appearance that finally made his dream come true.
"Somebody dropped out of the last minute, so I went and did the TV show. And the guy who produces the show just loved our act, so I sent that video to the person at the Crazy Horse. And they were like, 'where has this guy been all my life?' So it's kind of a struggle to get in there, but I did, and I was there about three years off and on."
Kevin never had a mentor as he pursued his career, yet admired many acts from afar.
"I just tried to watch as many shows as possible, and performed as many shows as possible, and listened to the audience. I always tried to be original. When I moved out to LA, I realized there are so many magicians out there. So the only way to stand out is to be really, really different."
The originality of his act has allowed Kevin to become quite popular over the years, leading him to be inducted into the Magic Castle's Hall of Fame in 2004. And it is this innovation to the art of magic that landed Kevin the nickname of "The Inventor" on his current tour with The Illusionists.
"I've always created magic, trying to find the next big thing or develop something. When I create an effect, I always try to find some sort of emotional hook. I want to make the audience feel something, whether it's delight, or nostalgia, or shock, or something that is very sweet. So it doesn't matter what it is, I want a roller coaster of emotions throughout my act. So I always keep that in the back of my head, asking, 'how can I make this resonate emotionally?' When we were putting together this show, the producer asked me what my superpower would be if I were an Avenger. So I thought The Inventor would be a nice playground to play in."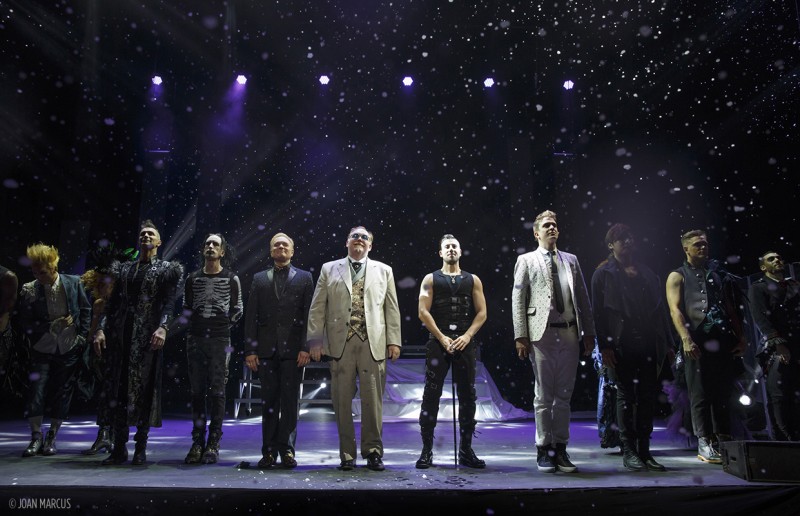 The Illusionists is a show made up of several magicians with intriguing titles, like "The Anti-Conjuror," "The Trickster," "The Weapons Master," and "The Manipulator." This distinction and the wide array of specialities is what makes it so unique. The original team worked for about three years outside of the US, travelling all around the world perfecting the show.
"About three years ago we did our first stint on Broadway, and that launched a North American tour. The following year there was so much demand for it, they put together a second unit and they did Broadway. Now they're doing Europe and a third unit is on Broadway. So we've had three units on Broadway, and we're the original team doing the North American Tour."
The current cast of seven performing at the Fabulous Fox in St. Louis this weekend is comprised of four original members. There will be so many great illusions to see, including some of Kevin's favorites.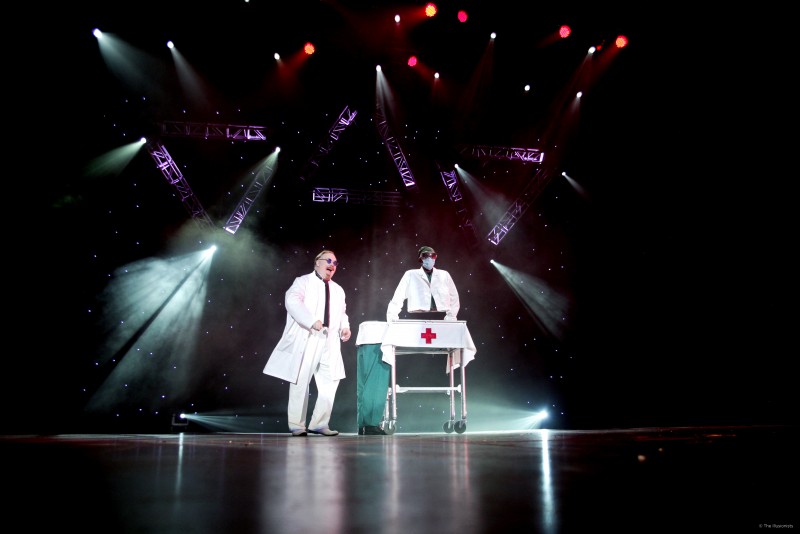 "I have a terrible accident with a chainsaw on stage every night. This poor guy gets cut in half like a tree, just standing there with no covering and no box. These two body parts kind of chase each other around a little bit, and I end up putting them back together with the staple gun and he dances off."
The magicians will perform an ensemble number during the opening and closing, and they all continue to tag team throughout the show.
"If there's something you don't like, two minutes later there's something you love. I think the biggest advantage the show has is you aren't watching the same kind of tricks, or same point of view for two hours. Here you have seven magicians that are all at the top of their game, who have their own specialty and their own styles. For me it's much more entertaining to have the variety in the show."
I asked Kevin if he had a personal favorite illusion to perform, and his answer was more complex than I anticipated. And very sincere.
"The process of creation for an effect starts off like a little scribble on a napkin. And you start to ask your mind what are hopefully the right questions. You start from the back and go forward, kind of like working out a crossword puzzle. And the process is like the birth of a child. There's this gestation period of trying to figure it out on paper, to making a cardboard model of it. There are three or four possible ways you could do it, and each one has their advantages and disadvantages. You try to figure out your presentation angle, and then there are a thousand other decisions to be made. You're choosing music, body language, costumes and lights. All these choices. And then at some point, you do it in front of an audience and hope they like it. And when they do, there's no better joy. So this art becomes your baby, and when you're asked which one is your favorite, it's like asking which kid do you like best. It's really hard to choose, and I like them all for different reasons."
He did, however, tell me about a moment between him and a member of the audience that he always loves.
"It's a very sweet moment in the show, and I go right into the audience and find a little girl – maybe 5 years old. I have a handheld camera and we're surrounded by audience members on all sides. I kneel down and show her a little piece of paper, which I crumple up into a ball and it starts to dance in my hand. She can't see anything, and the people around can't see anything as to how it is working. And I finally give it to her to try to make it dance. She eventually does, and the emotion that comes over her face at that moment is electric. You see that she really believes that she is making this paper move. This complete, honest, joyful sense of wonder she is expressing to me and the rest of the audience is beautiful."
There's more to the illusion, but i won't ruin it for you. At the end of the day, Kevin hopes that you experience the show with a sense of wonder, and enjoy it as much as this girl in the audience does.
"Hopefully it is something that she'll remember for a really long time."
See "The Inventor" Kevin James, along with six of the most talented magicians in the world, this weekend at The Fabulous Fox Theatre (Mar. 31 – Apr. 2). Tickets are available for five performances at Metrotix starting at $25. For more information, visit the Fabulous Fox online or theillusionistslive.com.