"I Spit on Your Grave" Unrated HD Trailer Starring Sarah Butler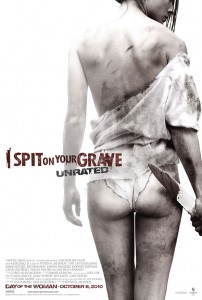 I'm preprogrammed not to like a movie like this. Maybe I was born with too much empathy, and for that I can't stand to watch people in pain. It is the same reason I can't sit through a Hostel movie without being completely disgusted that someone likes a "film" like this. I Spit on Your Grave at least has the joy of being mostly a revenge film, so most of the people the pain is inflicted upon deserve it, which means that I might be able to sit through it and not completely hate myself for doing so. I don't think I'll be wanting to see it on a day where I'm wanting a plucky hero.
Synopsis:
Writer Jennifer Hills takes a retreat from the city to a charming cabin in the woods to start on her next book. But Jennifer's presence in the small town attracts the attention of a few morally deprived locals who set out one night to teach this city girl a lesson. They break into her cabin to scare her. However, what starts out as terrifying acts of humiliation and intimidation, quickly and uncontrollably escalates into a night of physical abuse and torturous assault. But before they can kill her, Jennifer sacrifices her broken and beaten body to a raging river that washes her away. As time passes, the men slowly stop searching for her body and try to go back to life as usual. But that isn't about to happen. Against all odds, Jennifer Hills survived her ordeal. Now, with hell bent vengeance, Jennifer's sole purpose is to turn the tables on these animals and to inflict upon them every horrifying and torturous moment they carried out on her… only much, much worse.
Starring: Sarah Butler, Daniel Franzese, Chad Lindberg, Rodney Eastman, Andrew Howard
Directed by: Steven R. Monroe
Produced by: Jeffrey Klein, Alan Ostroff, Meir Zarchi
Genres: Suspense/Horror and Remake
Release Date: October 8th, 2010 (limited)
[hdplay id=114 width=595 height=375]