"Burlesque" HD Trailer Starring Christina Aguilera, Cher, Cam Gigandet, and Eric Dane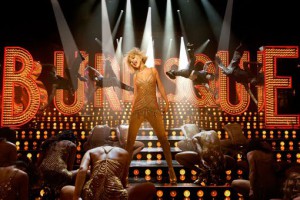 In what seems a mix of the plot line of Coyote Ugly, and the visuals of Chicago, comes Burlesque, the vehicle that is driving Christina Aguilera's drive to be an actress. I'm not saying it isn't possible that this will launch a successful acting career for the singer, I just don't think it will. There are very few musicians that have successfully penetrated Hollywood enough to enjoy successful acting careers. As luck has it, she is starring with Cher, who is one of the few to have successfully made it in both worlds.
Regardless that it looks like a rehash of a plot we've seen before, I'm sure it will have more than enough entertainment value. Aguilera has a set of pipes that is hard not to admire, and who would like to see Aguilera, Kristen Bell, and Julianne Hough in corsets dancing on stage?
Synopsis:
Ali is a small-town girl with a big voice who escapes hardship and an uncertain future to follow her dreams to LA. After stumbling upon The Burlesque Lounge, a majestic but ailing theater that is home to an inspired musical revue, Ali lands a job as a cocktail waitress from Tess, the club's proprietor and headliner. Burlesque's outrageous costumes and bold choreography enrapture the young ingenue, who vows to perform there one day. Soon enough, Ali builds a friendship with a featured dancer, finds an enemy in a troubled, jealous performer and garners the affection of Jack, a bartender and fellow musician. With the help of a sharp-witted stage manager and gender-bending host, Ali makes her way from the bar to the stage. Her spectacular voice restores The Burlesque Lounge to its former glory, though not before a charismatic entrepreneur arrives with an enticing proposal.
Starring: Cher , Christina Aguilera, Eric Dane, Cam Gigandet, Julianne Hough, Stanley Tucci, Alan Cumming
Directed by: Steven Antin
Produced by: Stacy Cramer, Dana Belcastro, Donald De Line
Genres: Drama and Musical/Performing Arts
Release Date: November 24th, 2010 (wide)
[hdplay id=115 width=595 height=375]