'The Hunger Games: Catching Fire' opens November 22! Enter to Win Passes to the St. Louis Advance Screening!
Enter to win tickets to a special advance screening of THE HUNGER GAMES: CATCHING FIRE live streaming the red carpet from the Los Angeles premiere! Brought to you by Subway. Check out THE HUNGER GAMES: CATCHING FIRE in theaters and IMAX November 22nd.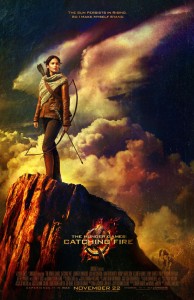 THE HUNGER GAMES: CATCHING FIRE begins as Katniss Everdeen has returned home safe after winning the 74th Annual Hunger Games along with fellow tribute Peeta Mellark. Winning means that they must turn around and leave their family and close friends, embarking on a "Victor's Tour" of the districts. Along the way Katniss senses that a rebellion is simmering, but the Capitol is still very much in control as President Snow prepares the 75th Annual Hunger Games (The Quarter Quell)—a competition that could change Panem forever.
Cast: Jennifer Lawrence, Josh Hutcherson, Liam Hemsworth, Woody Harrelson, Elizabeth Banks, Lenny Kravitz, Stanley Tucci, Donald Sutherland
Director: Francis Lawrence
Enter the contest by following the link below to gofobo.com:
Winners will be chosen at random from all entries. Supplies are limited. Limit one (1) pass per person, passes admit (2) two. Sponsor's employees and their dependents are ineligible. Screening is overbooked to ensure capacity. Please refer to passes for any other possible restrictions. NO PURCHASE NECESSARY.
Screening will take place Monday, November 18 at Wehrenberg Chesterfield Galaxy 14 Cine (7pm).
Presented by: