How I Met Your Mother – Season Episode Guide
How I met your mother is well into it's 5th season, and the show has become more and more popular since the beginning. During the Super Bowl the show even had a spot with Neil Patrick Harris' character, Barney Stinson, where he held up a sign to call him (Check out the entire Call Barney Stinson Superbowl Ad Here). You could even call the number, and there was a hilarious pre-recorded message, where it sounds like Barney is having a conversation with you on the other end.
Here is a list of "How I Met Your Mother" episodes for the current season:
Season 5 Episode List: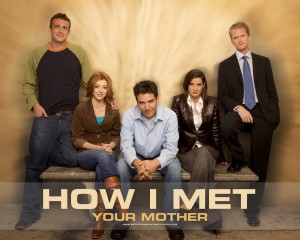 Sep 21, 2009: Definitions
Sep 28, 2009: Double Date
Oct 05, 2009: Robin 101
Oct 12, 2009: The Sexless Innkeeper
Oct 19, 2009: Duel Citizenship
Nov 02, 2009: Bagpipes
Nov 09, 2009: The Rough Patch
Nov 16, 2009: The Playbook
Nov 23, 2009: Slapsgiving 2: Revenge of the Slap
Dec 07, 2009: The Window
Dec 14, 2009: Last Cigarette Ever
Jan 11, 2010: Girls vs. Suits
Jan 18, 2010: Jenkins
Feb 01, 2010: The Perfect Week
Feb 08, 2010: Rabbit or Duck
Mar 01, 2010: Hooked
Mar 08, 2010: Of Course
Barney becomes enamored with a new conquest (Jennifer Lopez) who knows how to keep him on the hook, but the rest of the gang starts to notice that Robin's not all that thrilled about Barney's romantic escapades. Is it possible that she's still harboring some baggage from their breakup?
For more information, visit TVguide.com.
What is your favorite part of the show? Leave a comment below!