"Tron Legacy" HD Trailer – Watch it here!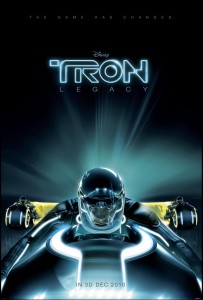 Who knew that people would get all worked up for a Tron sequel? Disney marketing team has been really intelligent, and has been leaking some really cool images out on the web for some now time. Then we got a teaser trailer not long ago that showed us just how good the updated graphics look in a CGI element.  Now finally after months of waiting (or years for a lot of fans), we finally get a trailer to the sequel of Tron, Tron Legacy. Flynn is back, as well as Alan Bradley, and this time Flynn's son, Sam, is going to go into the computer world. The details a still a little sketchy here. I'm not sure who is playing the good guys and bad guys this time around, but I don't really care because it looks like a visual feast. Try and watch this trailer and not think "That's cool".
Synopsis:
Sam Flynn, the tech-savvy 27-year-old son of Kevin Flynn, looks into his father's disappearance and finds himself pulled into the same world of fierce programs and gladiatorial games where his father has been living for 25 years. Along with Kevin's loyal confidant, father and son embark on a life-and-death journey across a visually-stunning cyber universe that has become far more advanced and exceedingly dangerous.
Starring: Jeff Bridges, Garrett Hedlund, Bruce Boxleitner, Michael Sheen, Olivia Wilde, Beau Garret, John Hurt, Daft Punk
Directed By: Joseph Kosinski
Release Date: December 17, 2010