The Hidden Gem – "Behind the Mask: The Rise of Leslie Vernon"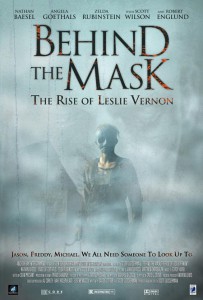 This week's film, Behind the Mask: The Rise of Leslie Vernon, is a film I fell in love with as soon as I saw the trailer. I instantly bought it when it came out and watched it with my brother. I'm not going to lie, the first time I saw it I thought it was okay. I will get into the reasons why later, but first, let's discuss what this film is all about.
The film follows Taylor Gentry, a journalism student filming a documentary that follows the life of Leslie Vernon. This all seems okay, but you soon find that Leslie Vernon wants to become the next big serial killer following in the footsteps of Michael, Freddy, and Jason. Taylor learns all of the tricks of the trade as Leslie breaks down all of the stereotypes and all of the secrets of success of these great killers in his journey to his first killing.
Despite the description, the film is truly funny, and this is also one of the reasons I thought the film was just okay in the first viewing. After watching the trailer, I knew the film would be funny, but it is much more subtle than I expected. This is why repeat viewings are needed because you do catch new jokes each time. References to classic horror/ slasher films are made throughout which makes each viewing more enjoyable.
The film also gives you the scares needed. Not many films succeed in being both funny and scary. This film makes jokes about all the major conventions seen in Friday the 13th, Nightmare on Elm Street, and Halloween, and then by the end of the film it becomes one of those movies to much success. This is must see film for fans of horror, comedy, or mockumentaries.
Have you seen this film? What is your favorite mockumentary? Let us know in the comments below.