'Heathers The Musical' Opens New Line Theatre's 25th Season With Serious Laughs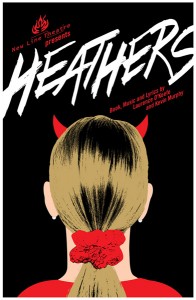 I'd like to say that I was surprised by just how amazing New Line Theatre's opening show of their 25th season was. But I can't. Because honestly, at this point, what else did I expect? Is it a surprise when show after show, year after year, Scott Miller finds another musical that failed on or off Broadway, and breaths the breath of life back into it – reviving it from it's eternal slumber and makes it into the wonderful piece of art it was always destined to be? The answer is no; It should come as no surprise. Heathers, based on the 1988 film starring Winona Ryder and Christian Slater, is another inconspicuous movie destined to become a musical.
If you've seen the movie, you'll notice that the story stays fairly true to its source material. However the musical does offer more insight into just how Veronica (Anna Skidis) infiltrated the infamous "Heathers," the popular group of well-to-do princesses after which the title is named. There's Heather Chandler (Sicily Mathenia), the alpha of the group, Heather McNamara (Larissa White) and Heather Duke (Cameisha Cotton).
Veronica abandons everything she knows about being an outcast, becoming one of the "cool kids" at the expense of losing friends like Martha Dunstock (Grace Seidel) – referred to by the Heathers as "Martha Dumptruck." It was just another day at Westerburg High School until JD (Evan Fornachon) showed up, eventually beating the crap out of a couple of jocks who give him trouble: Kurt Kelly (Clayton Humburg) and Ram Sweeney (Omega Jones). An unexpected romance blossoms between Veronica and JD after a falling out with the Heathers at a party, as the two of them impart their own brand of justice to combat the evils of high school villainy.
The songs in Heathers are great. Not unlike past New Line shows (see High Fidelity and or Night of the Living Dead), Kevin Murphy (Reefer Madness) and Laurence O'Keefe (Bat Boy, Legally Blonde) have taken a film which in no way resembles a musical – and crafted it into a show full of one catchy number after another. "Beautiful" opens the show, highlighting Anna Skidis' powerful vocals, and also sets the tone for what's to come. Veronica introduces us to her school, and classmates, and most importantly – the Heathers. It's a wonderfully written song, interspersed with dialogue weaving in and out of a catchy tune, performed masterfully as always by the New Line band conducted by Sue Goldford (musical direction by Jeffrey Richard Carter). Not to mention the show is full of fantastic choreography throughout, thanks to Robin Michelle Berger. I'll go out on a limb and say it's the best-looking show that I've ever seen at New Line, speaking to the impressive staging by directors Scott Miller and Mike Dowdy. Everything works so perfectly, as cast members come and go around Rob Lippert's wonderful set. It's an amazing time machine, taking us back to the 80s and all of the neons and pastels we left behind. And hats off to Sarah Porter, who has costumed five of the last six shows. The outfits couldn't have blended in more seamlessly with the time period.
It is no small task blocking the show properly, working around the triangular layout of the set – as actors enter and exit from the back, as well as either side. But this isn't the first rodeo for Miller and Dowdy, and dare I say there wasn't a bad seat in the house. The beautiful new Marcelle Theater provides the intimate setting we have come to know and love from New Line, while giving them an incredible space to play in. They make the show look way easier to execute than it has any right to be. And that is where the 25 years comes in handy.
There are plenty of fresh faces in the company, which is usually comprised of about half New-Liners and half newcomers. But that isn't to say that show doesn't overflow with talent. Two of the three Heathers make their New Line debut with the show; Sicily Mathenia plays the leader of the group, who you love to hate, as Cameisha Cotton plays the Heather that's waiting in the wings for her chance to rule with an iron scrunchie. Both have terrific voices, and use their body language to convey just how arrogant and flippant this group of populars can be. Larissa White (Bonnie in Bonnie & Clyde) makes her third New Line appearance and continues to impress with a character that transitions throughout the show. All three of these strong actors play extremely well off of one another.
New Line veteran Anna Skidis (Hands on a Hardbody, Rent) is explosively captivating as Veronica, who transforms from geek to chic – and eventually to a chic geek. The actress showcases her talent and vocals, and reminds us why we love seeing her name in a New Line program. Skidis can really belt it out, while also taking you on an emotional roller-coaster. And boy does her character experience some peaks and valleys.
Enter JD, played by Evan Fornachon (who was magnificent as Roger in last year's Rent). Fornachon goes to some deep, dark places as this character, and gives a mind-blowing performance. The actor disappears into the role, becoming the troubled teen with good intentions and a misguided agenda. His chemistry with Skidis is wonderful, playing off of their characters' insecurities and fallacious hopes for a better high school.
The entire cast is great, but it would be a disservice not to mention two of the brightest standouts of the show: Clayton Humburg and Omega Jones as Kurt and Ram. Both New Line virgins, the two actors brighten up the otherwise dark and serious subject matter with their slow-witted jock mentality. They share a song called "Blue" toward the end of the first act that has the audience erupting with laughter. Humburg and Jones put it all out there, both literally and figuratively, as they perform half of the show in only their tighty whities. They are responsible for many of the laughs in the production, and make a terrific addition to the company. I'd also be remiss to leave out Joel Hackbarth and Chris Kernan as Kurt and Ram's dads. They put on one hell of a performance during the second act.
Heathers The Musical is an amazing way to kick off New Line Theatre's 25th season. Once again, they've taken a diamond in the rough and polished it into a magnificent gem for the audience to behold. The show is packed with serious topics and thought-provoking subject matter, but also manages to provide us with laughs and plenty of catchy tunes. The entire cast is overflowing with talent, ne'er a weak point to be found. This is one show that you do not want to miss while you have the chance.
---
HEATHERS runs October 1-24, 2015, Thursday through Saturday evenings, all performances at 8:00 p.m., at the Marcelle Theater, 3310 Samuel Shepard Drive, three blocks east of Grand, in Grand Center. October 1 is a preview. Click here for directions.