Watch Marvel's "Thor" Trailer – Anthony Hopkins, Chris Hemsworth, Natale Portman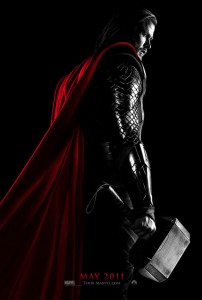 I love it when a trailer genuinely surprises me. Whereas the Green Lantern trailer was a disappointment, the Thor trailer looks ten times better than I expected. Early photos looked a bit cheesy, and the leaked footage from this year's San Diego Comic Con didn't really impress. It is amazing what higher quality, and a good editing team can do to make a movie look good in trailer form. The fact that Thor has a top notch cast makes it just that much more appealing. Yet another "must see" in 2011. So, now the question is when Marvel is going to release a Captain America trailer.
Synopsis:
Thor, a powerful but arrogant warrior, is sent down to Earth has punishment for reigniting a reckless war. But after a dangerous villain from his world sends the darkest forces of Asgard to invade Earth, the hammer-wielding Thor will learn what it takes to be a true hero in order to save mankind.
Starring: Chris Hemsworth, Anthony Hopkins, Natalie Portman, Tom Hiddleston, Ray Stevenson
Directed by: Kenneth Branagh
Produced by: Stan Lee, Louis D Esposito, Ari Arad
Genres: Action/Adventure and Adaptation
Release Date: May 20th, 2011 (wide)
[hdplay id=222 width=595 height=375]