HD Preview of "Nine" | Daniel Day Lewis, Nicole Kidman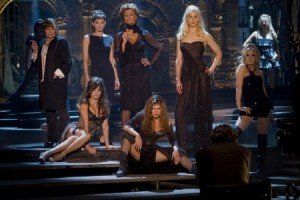 "Nine" is the film adaptation of the Tony Award winning musical that was inspired by Fellini's "8 1/2." The film is directed by Rob Marshall, who was responsible for the successful 2002 film adaptation of Chicago.
Nine is the story of filmmaker Guido Contini, played by Daniel Day-Lewis. Contini realizes his latest cinematic vision while simultaneously balancing his relationships with the many passionate and influential women in his life: including his mistress Carla (Penélope Cruz) and wife Luisa (Marion Cotillard). The film co-stars Kate Hudson, Nicole Kidman, Sophia Loren, Fergie, and Judi Dench.