Movie Review: 'The Hateful Eight' Starring Samuel L. Jackson, Kurt Russell, Walton Goggins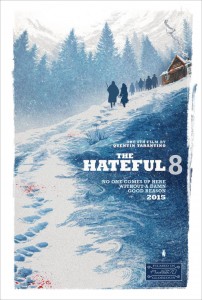 The holiday season not only brought the return of Star Wars, but also the return of Quentin Tarantino for film buffs. The director's latest – and his greatest film to date – The Hateful Eight is an experience unlike anything you're likely to have in movie theaters this year or anytime soon.
Beautifully filmed in 70-millimeter, the move engages audiences from the very beginning of this three-hour spaghetti western. Watching Tarantino's latest film is like watching a master at work. He uses beautiful cinematography in the mountains of Wyoming, but also dishes out more fake blood than I've ever seen before.
Clocking in at just over three hours with an overture and an intermission, The Hateful Eight is a western "who done it," featuring top notch acting. With standout performances from Samuel L. Jackson as Maj. Marquis Warren, and Kurt Russell (doing his best John Wayne imitation as John Ruth), the audience gets their moneys worth.
Jennifer Jason Leigh is also magnificent in a largely silent role, as Daisy Domergue. Leigh's expressions tell a story on their own in the film.
Without giving anything away, The Hateful Eight takes place in the snowy mountains of Wyoming, shortly after the end of the Civil War. As the film opens, with a breathtaking shot of a snow covered crucifixion, Ruth is on his way to Red Rock – to watch Domergue hang and collect his bounty. Along the way, Ruth's stagecoach stops to pick up a stranded Marquis.
The banter back and fourth between Jackson and Russell is brilliantly done, especially during a scene where Ruth asks for Marquis to present a letter from Abraham Lincoln. This becomes a running joke throughout the film.
The 100-minute first act moves deliberately slow, as Tarantino plays with the audience, shifting moods like a slow burning fuse. The first act ends with a bang, which carries over to the second half of the film – moving with a bloody and violent pace.
While the audience is left playing "guess who," the cast of characters grows, as we are introduced to shady characters played by Tim Roth, Bruce Dern, Michael Madsen, Walton Goggins and Demian Bichir.
As with all Tarantino films, the soundtrack is brilliantly selected. Ennis Morricone's score is unnerving yet enjoyable. Tracks from The White Stripes and Roy Orbison also are used in the film.
While Jackson and Russell produce some great conversation along their ride, the real fun starts when all these characters find themselves locked in a cabin together, waiting out a blizzard. Only then, does the audience realize that the characters may not be who they claim to be.
While Tarantino claims to have just two more films left until retirement, I'm hoping he reconsiders. After thinking I had seen it all in Tarantino's previous films: Pulp Fiction, Reservoir Dogs, Inglorious Basterds, Django Unchained, and the Kill Bill saga, one of Hollywoods most shocking and bravest directors delivers his greatest work yet.
Hateful Eight gets an A.