Guillermo del Toro Brings Hulk to Life on the Small Screen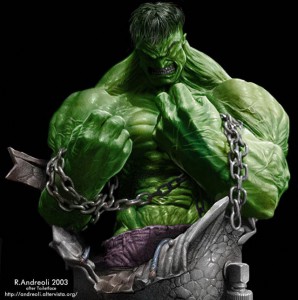 As if the man does not have enough on his plate already. 
Recently, Marvel has announced that they are moving forward with a t.v. show based upon the not so jolly green giant.  ABC television would broadcast the show.  I think this is a great idea.  Hulk seems like a great character for the television as seen in the popular television series starring Lou Ferrigno.  Can Marvel once again capture the magic that made that show last for 5 seasons?  I think they are certainly headed in the right direction.
David Eick of Battlestar Gallactica fame and Guillermo del Toro are currently working out a deal with ABC and Marvel Television to be the creators of this new series.  Word is that Eick would write the pilot with del Toro possibly directing if he can find time among Frankenstein and At the Mountains of Madness.  Del Toro will also be in charge of creating the look of the title monster that will mix prosthetics, puppetry, and cgi.  Sounds like the perfect mix for a television creation.  The series would once again tell the origins of Bruce Banner, but in a new, fresh way.
I am on board seeing that I love everything del Toro's had has his hand on since Blade II.  The man has a mind unlike any other, and brings his unique creations alive.  I think he can add alot to the character and mythology of the Hulk.  It does worry me a little that this would be the fourth actor to play the green behemoth in the last 7 years.
What do you think of this news?  Are you a Hulk fan?  Let us know in the comments below.