Reel Big Fish vs. Aquabats in St. Louis, w/ Suburban Legends and Koo Koo Kanga Roo!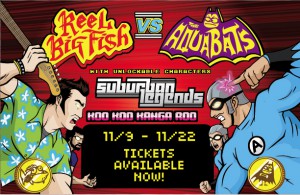 The Reel Big Fish came back to the Pageant in St. Louis on Sunday night, along with Aquabats, Suburban Legends and Koo Koo Kanga Roo. The result was one of the highest energy, most fun shows that I have ever seen.
The bands were jumping into the audience, and flying through the air as they performed on-stage. Koo Koo Kanga Roo yelled out to the audience that every song is a sing-a-long, and it was on from there. They had a really fun set, with their goofy dance moves and clever lyrics. Everyone in the crowd seemed to be having a fun time.Suburban Legends' performance is a genre all of their own. As they dance to choreographed numbers while playing their instruments, the entire audience was going crazy.
The Aquabats hardly ever sat still themselves. The lead singer constantly jumped and kicked, as he sang song after song with what seemed to be an endless amount of energy. He even stage-dove multiple times during the set. And you know when a band like the Aquabats performs non-stop for an hour, and the lead singer starts doing back-flips off of the drum kit – you are in for a good time.
Reel Big Fish came on-stage with as much energy as ever. After the Aquabats had everyone fired up with their incredible performance, the entire building was jam-packed with people waiting for the main event. As per usual, RBF combined their endless set list of favorites with their comedy and fantastic dance moves. They played fast and furious, as the entire Pageant was on it's feet. Reel Big Fish played for about an hour, and came back for an encore of three more songs. Needless to say, everyone went home happy after one hell of a show. I can't think of another lineup that had as much energy as this one, paired with the amount of great music. If this tour comes through your city, you better not miss it!
Check out photos from Reel Big Fish vs. Aquabats:

no images were found