Gritty and Tough, Fire Shut Up In My Bones is A Charged Emotional Stunner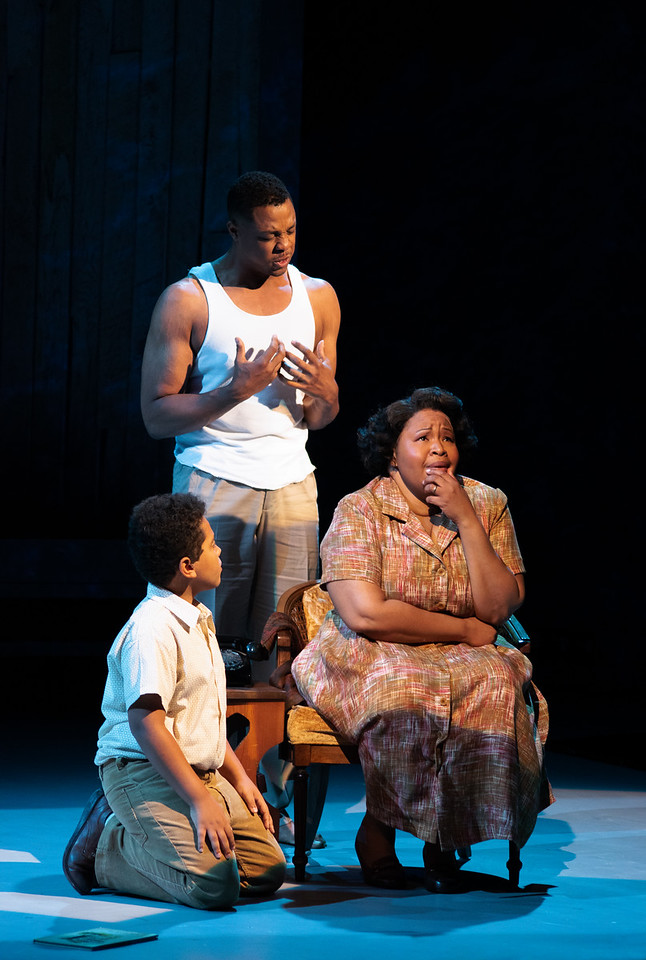 Describing Terrence Blanchard's opera, Fire Shut Up In My Bones in a few words is not easy. However, 'poignant' is a good place to start. Commissioned in collaboration with Jazz St. Louis as part of their ongoing New Works, Bold Voices series, Fire Shut Up In My Bones is an unsettling an emotionally powerful reminder of Opera Theatre St. Louis' commitment to presenting new work in addition to the standard repertoire.
Marking the second time that the Grammy Winning Blanchardhas collaborated with OTSL (his first was 2013's Champion) the opera's musical score is a fresh blend of jazz and traditional compositions, that, thanks to Blanchard's accuracy at creating music that is both harmonies and emotionally resolute, underpins the evocative drama of Eve's Bayou screenwriter Kasi Lemmons' dynamic libretto.
Relying on open spaces, dark lighting and movable set pieces, director James Robinson has allowed the ensemble to remain at the forefront throughout, giving viewers a heightened sense of urgency that enables them to fully convey the pain of Charles' life while challenging gentrified notions of protection and family.
Despite the presence of heavy hitters like Blanchard and Lemmons, the real star of the show is Charles Blow, the writer and activist whose 2014 memoir is presented here as an invigorating new work that shatters traditional opera by replacing glitter and glamor with grime and guns.
Fire Shut Up In My Bones chronicles Blow's childhood in Gibland, Louisiana. Stinging from the legacy of slavery and violence, it is an unpleasant and uncomfortable story of lost innocence, family distress, revenge and redemptions seen through the eyes of Blow, first as a seven-year-old boy and later as a man.
At its core, Fire Shut Up In My Bones is the story of a peculiar boy named Char'es baby (Blow), and the mom who gives him her unwavering love and how growing up in a world of hardship and struggle (complete with sleepless nights and bad dreams) taunts him until he confronts his damaged past and learns to let it go.
Whereas Blanchard's Champion was a boxing themed opera that literally pulled punches, its successor is a powerful piece that literally throws punch after emotional punch at the audience, leaving them on the ropes; drained, exhausted and lost in thought as he takes viewers along for Blow's traumatic journey.
Riveting performances from an incredible ensemble helps underscores the events that transformed Charles Blow from a troubled childhood to a career as a New York Times columnist. Jeremy Denis is excellent as the young Char'es, giving a performance that is rich in emotion and naivety. Debuting with OTSL is Davóne Tines as the older Charles. From shadowing Denis in Act one to seizing the reigns in the production's latter half, he takes charge with a prodigious performance drenched in intensity.
Fire Shut Up In My Bones also features a breathtaking turn from OTSL newbie, Julia Bullock whose captivating voice shines in three roles, culminating with some wonderful work in Act Three. She is joined by powerhouse Karen Slack as Charles 'mom and Markel Reed as Charles' cousin Chester.
Fire Shut Up In My Bones is sung in English with musical accompaniment from The St. Louis Symphony Orchestra. Performances are held at the Loretto-Hilton Center on the campus of Webster University. For more information visit opera-stl.org.
Photo Credit
(L to R) ]Jeremy Denis and Char'es Baby, Davóne Tines as Charles Blow, and Karen Slack as Billie in the world premiere of
Terence Blanchard
and Kasi Lemmons' "Fire Shut Up in My Bones"
Photo by Camille Mahs