Greenberg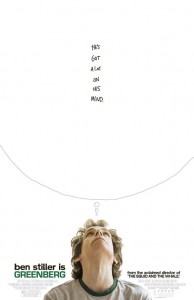 Noah Baumbach's latest, Greenberg, is just as engaging of a film as his previous efforts and is an interesting dual character study of a couple of people who can't quite figure out their lives.
Roger is lost in life and he decides to try and sort it our by taking a break from life by moving into his brother's house in LA for a bit while they are gone on vacation.  Florence is in a similar place in her life, though a bit younger in age to Roger, and the two meet as Florence checks up on Roger's brothers house as she is the family's personal assistant.  The two begin to strike up a bit of a friendship as they cross paths at the house and both hesitantly move towards possible romantic feelings.  Roger is a bit conflicted though, as he is with everything, as he contemplates hooking up with an ex from his past and tries to figure out if she was the one who got away.  Roger also reconnects with an old friend, Ivan who is also his former bandmate, who has changed quite a bit but the two try and find a common ground to rekindle their thing relationship.  From these lines we follow Roger and Florence as they try and figure out what happened to their lives, where they want to go, and watch them make mistakes along the way with and separate from each other.
Now if that summary seems a bit all over the place it because that is essentially what the film is.  It lacks a real solid plot or sense of structure and days will pass from scene to scene as we follow Roger's time in LA.  This isn't a complaint though, the lack of structure, the film works quite well at scooting along, showing the interesting bits, and showing us the scenes that matter in these characters lives.  The film might be a challenge for some though as Roger isn't the most likeable guy in the world.  We might laugh at him a lot in the film but it is hard to connect with his plight.  Ivan and Florence are the more relatable characters in the picture and while they might be a tad different their feelings are the ones that seem the sanest.  The picture also works because these characters get to tell Roger what we want to tell him and Roger is rarely allowed to get away with his irresponsible actions; which makes his character more tolerable.  If he was running around having these outbursts he has without consequence I don't think the film would have worked as well as it does.
Baumbach's script manages to find plenty of heart in it and is full of some great dry humor.  The film slowly gets rolling and as it moves along it really begins to build its laughs as we ease into the films sense of humor.  Baumbach also gets some great work out of his actors and fills them with subtle nuances and touches that add a whole lot to the picture without making a big deal about them.
Ben Stiller stars as our unlikely protagonist and he does a great job at capturing the aloof nature of Roger and his wishy washy ways when dealing with just about every decision in his life.  Stiller also really does a great job at bringing Roger back from his little freak outs and not completely disconnecting the character from the viewer.  Greta Gerwig is cute and captivating as Florence as she sucks you into her characters quirky oddness.  There is something vulnerable and real about her character that just resonates through the screen and her role just comes across as authentic for someone of her age in the film.  Ivan is wonderfully played by Rhys Ifans as he quietly reconnects with Roger and Ifans slowly reveals the strain Roger is causing on their relationship.  Ifans also represents the viewer's relationship with Roger and does a great job at capturing our frustrations and he eases us back into a positive relationship with him as Ivan forgives him like a true friend would.  The rest of the cast is rounded out by some solid work by some great talents, Chris Messina, Brie Larson, Jennifer Jason Leigh, Mark Duplass, Susan Traylor; they all fill out the supporting cast to great effect.
In the end, Greenberg is an odd and dry comedy that isn't for everyone but will make you laugh plenty of you can get into it.  Stiller, Ifans, and Gerwig all do some great work off Baumbach's solid script and provide plenty of humor and honest characters for us to enjoy.  From Roger's tantrums, to the scenes with the dog, or the awkward romance the film runs a wide range of emotions and finds humor in all of them.  If Baumbach's past work wasn't your cup of tea before, it won't be here either, but fans of the director's work will be right at home as he continues to show why he is one of the better working directors of this day.
Greenberg is a B+