"Green Lantern" Suit To Be Completely CGI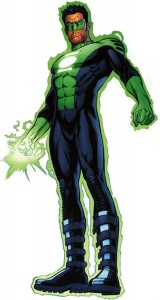 All of us out there hoping for a glimpse of the Green Lantern suit during filming will be out of luck. The costume will be made mostly of CG components instead of using traditional costume techniques.  Ryan Reynolds will be filming the duration of the movie in a grey motion capture suit with LEDs attached to it. The costume will then be put in using CGI in post.
This is what /film has to say about the matter:
Ngila (Dickson, costume designer) was tasked with trying to find a way to do something that stands apart from all of the other superheroes spandex suit designs we've seen in the past.
The Green Lantern suit is something that should look alien — it needs to seem other worldly. It encompasses any creature that wears the ring, and Hal Jordan is the first human to ever wear the suit. This was a chance for Dickson to do something different. You also have to consider that Hal changes into the suit multiple times in mid scene, and the cg also allows him to do this.
I've heard that when the cg is complete, the suit will look like a manifestation of his power.
I'm not really sure how something like this will turn out. If they make it look to alien it will instead look fake. They are walking a very thin line here. I'm being very optimistic about this movie, since I don't want it to suck. Although, each choice they make puts a little seed of doubt in me. Oh well, I guess I'll wait for the trailer before I make my judgment.
What do you think? Let us know in the comments!