"The Green Hornet" Opens January 14! Enter to Win Passes to the St. Louis Advance Screening!
THE GREEN HORNET OPENS JANUARY 14 NATIONWIDE.
Enter for your chance to win a pass, good for two!
Synopsis: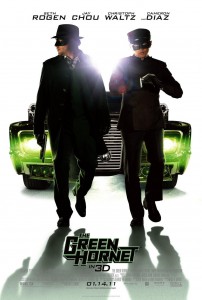 Britt Reid, son and heir to Los Angeles' largest newspaper fortune, is a rich, spoiled playboy who has been happy to maintain a direction-less existence. When his father James Reid dies, Britt meets an impressive and resourceful company employee, Kato. They realize that they have the resources to do something worthwhile with their lives and finally step out of James Reid's shadow. Kato builds the ultimate weapon, The Black Beauty, an indestructible car with every weapon imaginable and Britt decides that in order to be heroes, they will pose as villains. With the help of Britt's new secretary, Lenore Case, they learn that the chief criminal in the city is named Benjamin Chudnofsky. He has united all the gangs under his power, and he quickly sees that the Green Hornet is a direct threat to the prosperous criminal underworld he controls.
In order to enter the contest, "like" ReviewSTL on Facebook and suggest ReviewSTL.com to all your friends (click the "suggest to friends" link on the left side of the page). Then post a comment on the ReviewSTL fan page telling us why you want to see the movie! NO PURCHASE NECESSARY. PLEASE REMEMBER TO READ THE RULES!
SCREENING IS THURSDAY JANUARY 13 IN 3D!
Good luck! We hope to see you at the movies!

[hdplay id=254 width=595 height=375]