Great Escape Movie Theater in Gravois Bluffs FIRST in Missouri to Go All Digital!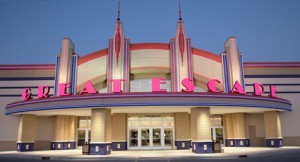 The Great Escape Theater in Gravois Bluffs offers the utmost comfort and quality to moviegoers in the St. Louis area. The extraordinary movie theater, which opened in December of 2008, offers plush leather, rocking seats in all of it's theaters. And now – it is the first theater in the entire state of Missouri to offer digital picture and sound in every theater!
If you haven't seen the Great Escape in Gravois Bluffs, read our review here.
Starting today, March 12 – every person in the audience will experience the best picture and sound a theater has to offer. And all of this comes at some of the best prices in town! Adult ticket prices are only $9.00 – and matinée, senior, and child prices are $6.75 (Matinee prices till 4pm Friday through Sunday and 6pm Monday through Thursday)!
So check out today's new releases, and make sure to stop by the Great Escape Theater in Gravois Bluffs for an incredible movie experience.
Directions:
Gravois Bluffs
The Summit at Gravois Bluffs
754 Gravois Bluffs Blvd
Fenton, MO 63026
636-326-2862
View Larger Map