'Gravity' opens October 4! Enter to Win Passes to the St. Louis Advance Screening!
Enter to win a pass for two!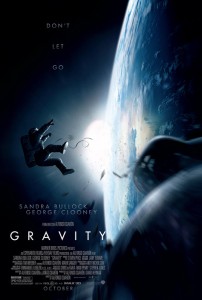 Academy Award® winners Sandra Bullock and George Clooney star in "Gravity," a heart-pounding thriller that pulls you into the infinite and unforgiving realm of deep space. The film was directed by Oscar® nominee Alfonso Cuarón ("Children of Men"). Bullock plays Dr. Ryan Stone, a brilliant medical engineer on her first shuttle mission, with veteran astronaut Matt Kowalsky (Clooney) in command of his last flight before retiring. But on a seemingly routine spacewalk, disaster strikes. The shuttle is destroyed, leaving Stone and Kowalsky completely alone—tethered to nothing but each other and spiraling out into the blackness. The deafening silence tells them they have lost any link to Earth…and any chance for rescue. As fear turns to panic, every gulp of air eats away at what little oxygen is left. But the only way home may be to go further out into the terrifying expanse of space.
Cast: Sandra Bullock, George Clooney
Director: Alfonso Cuarón
Rated PG-13 for intense perilous sequences, some disturbing images and brief strong language.
Gravity opens Friday, October 4!
Use the contest app below to "like" ReviewSTL on Facebook – then tweet, share, or comment for additional entries!
Winners will be chosen at random from all entries. Supplies are limited. Limit one (1) pass per person, passes admit (2) two. Sponsor's employees and their dependents are ineligible. Screening is overbooked to ensure capacity. Please refer to passes for any other possible restrictions. NO PURCHASE NECESSARY.
Screening will take place Monday, September 30 at Wehrenberg Ronnies 20 (7pm).