Grammy Award Winning Singer, Alanis Morissette is Pregnant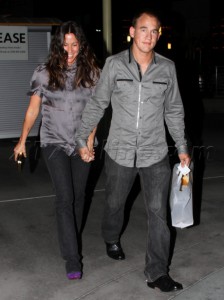 Alanis Morissette tied the knot to rapper, Mario 'Souleye' Treadway, this past May, and now the singer has confirmed on E!'s Chelsea Lately that she is pregnant with her first child.
"I thought I wasn't. In passing, I said I was a little late. The doctor said, 'Is that normal?' [I said], 'No, not really typical for me,'" says Morissette.
Her doctor told her, "This looks like the screen of a pregnant lady. And I said, 'There's still a chance that I'm not though, yes?'" Morissette told host Chelsea Handler. "And he said, 'Yeah, about the chance that I'm getting a sex change!'"
The 36-year-old singer is five months along, and says she is "glowing" over the news.
Congrats to her and her husband on their first child!