'Graeme of Thrones' is Brilliant Tribute to Swords, Sex and Dragons (Review)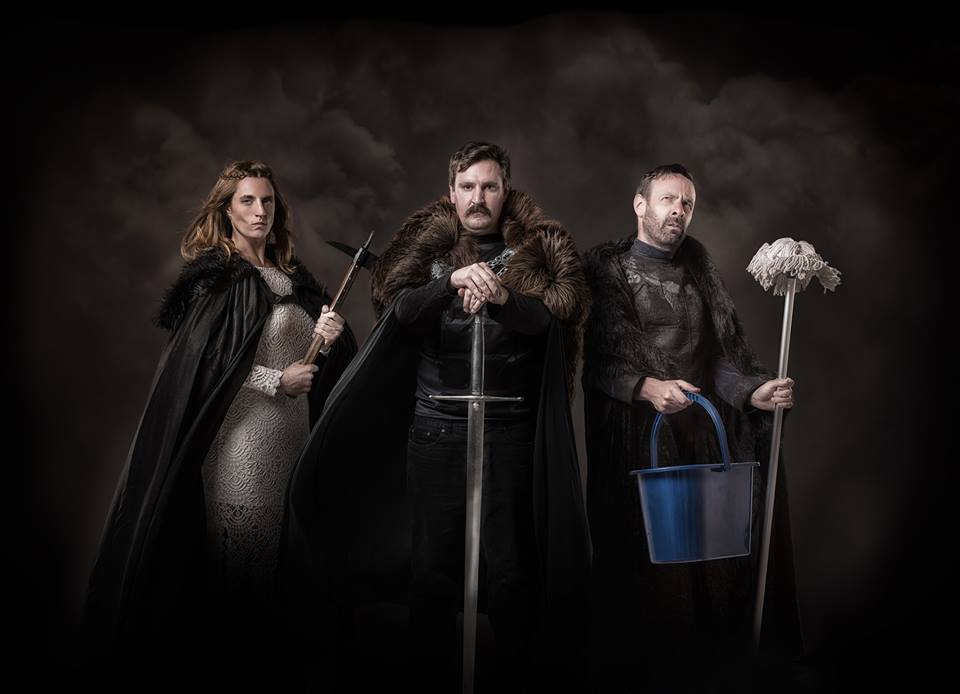 Do you miss Game of Thrones? Need a refresher before the new season starts? Then do I have the show for you!
Originating in London, Graeme of Thrones is a show about a man (aptly named Graeme, played by Ali Brice) who is courting investors for his theatrical adaptation of the hit HBO series Game of Thrones. With him are fellow actors Paul (MICHAEL CONDRON), his best friend and right-hand man, and the professionally trained Bryony (LIBBY NORTHEDGE) – whom Graham has had a crush on since youth. The show within a show is extremely low budget and avant-garde, which is exactly what makes it so wonderful. The characters always take their work seriously, in hopes of us – the audience – realizing their vision and investing in the show. This unique dynamic makes for an immersive and highly entertaining experience.
There is no doubt, this show was meticulously crafted by Game of Thrones fans for Game of Thrones fans. While I do believe the uninitiated viewer can enjoy the physical comedy and casual jokes, it is the never-ending attention to detail which makes this love letter to the series downright hilarious. As an avid fan of all six seasons, and reader of the books, I can't remember a time that I have ever laughed so much at the theater.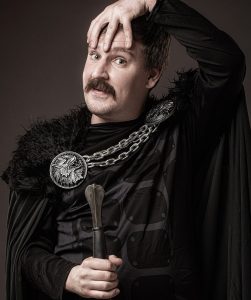 Brice is fantastic in the role of the timid leader, breaking the fourth wall and speaking to the audience as investors about the show as it progresses. The actor swallows many of his lines when interacting with the crowd, which adds to the humor. But when he plays a GoT character, Brice is giving it everything he's got – and does great work as Ned Stark, Illyrio and Viserys (grouped together here purposefully), and Renly Boratheon among many others.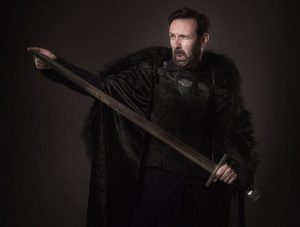 Paul, the lovable dolt, is played by an actual cast member of Game of Thrones: Michael Condron. You may remember him as Bowen Marsh, First Steward of the Night's Watch, who has appeared in ten episodes of the series before his final performance in "Oathbreaker" last season. It's fun to watch the actor play the parts of cast members he worked opposite from on the show. Paul is a very simple, yet incredibly honest character. What you see is what you get, which leads to many comedic misunderstandings between him and Graham. Condron is a talented actor, who seamlessly switches between characters and really seems to get lost in his roles. Two of the funniest moments in the show, of which there are countless, are when he plays Khal Drogo and Sir Loras.
Last but certainly not least, rounding out the trio of actors is Libby Northedge. Naturally she plays most of the female characters from the show (but not all of them, I might add) as well as some of the male leads. Her character Bryony always appears to be above the material, but as a consummate professional uses her skills to elevate every scene. Her body language and delivery as characters including Cersei Lannister and Daenerys Targaryen are perfection. The show is such a cleverly written satire on GoT, and Northedge commands her arena. In one scene early on, Bryony gives her own interpretation of King Robert's death by boar – which is absolutely to die for. And I'd be remiss not to mention her scene as Oberyn Martell, which is fantastic.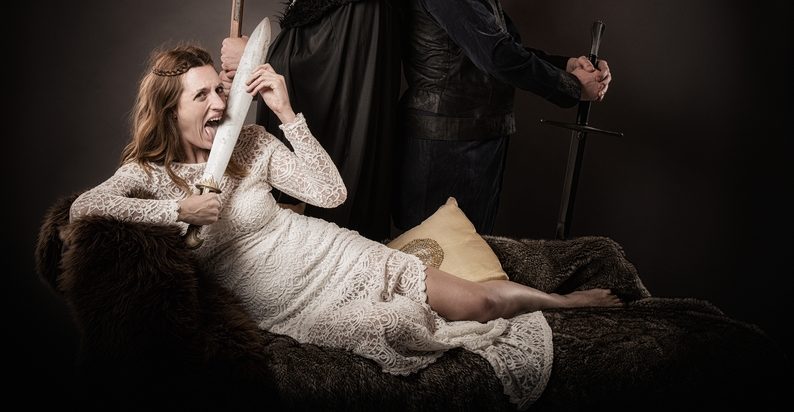 I have to add that the Playhouse at Westport Plaza is perfect for a show like this. The theatre is such an intimate setting, and allows the audience to get up close with the actors and the action on stage. And there are even a few bits of audience participation, which are a lot of fun.
There are so many hilarious parts of the show, but in the end words cannot do them justice. If you love Game of Thrones like I do, you are doing yourself a disservice by not seeing the show while it is in town. All three of the actors consistently give it their all, and leave everything they've got on that stage by the end. As far as props and costumes go, the production is very minimalist – which only works in its favor. The writers had to be extremely clever when crafting the script, and the performers have to be even more talented to make it work. And boy, do they ever.
Performances of Graeme of Thrones are taking place at the Playhouse at Westport Plaza now through February 26. Tickets are $60, and available through MetroTix. For more information, visit playhouseatwestport.com or visit the official Graeme of Thrones website.
---
About the Cast
ALI BRICE (GRAEME)
Ali Brice is a character comedian and actor. Performing since 2009, Brice creates very silly, vividly coloured worlds full of very silly, largerthan-life characters. in 2014, Brice took Eric Meat Wants to Go Shopping to the Edinburgh Fringe to critical acclaim. He is a member of the London-based alternative comedy collective Weirdos. Ali was in the original Graeme of Thrones cast in London's West End and has since gone on to tour the U.K. and Australia with the show.
LIBBY NORTHEDGE (BRYONY)
Libby has worked as both a performer and director with notable companies including Punchdrunk, NIE, BBC, Sky Arts. Libby is one half of clown and character sketch duo Twisted Loaf. In 2013 they won the prestigious Funny Women Award and have since had two smash-hit Edinburgh Festival shows that have both transferred to the West End. They wrote and starred in their own short film for Sky and are currently in development for a TV series. Libby is a regular improviser, having spent the summer of 2012 performing with IO and Second City in Chicago. Libby was in the original cast of Graeme of Thrones in London's West End and has toured with the show across the U.K. and in Australia.
MICHAEL CONDRON (PAUL)
Born in Toronto, Michael performs regularly at Belfast Lyric Theatre and his credits include 39 Steps, Smiley, Here Comes the Night, Macbeth, Much Ado About Nothing, John Bull's Other Island and The Miser by Moliere adapted by David Johnston. Michael has performed with the Boat Factory, OffBroadway, Kings Head Theatre, Edinburgh Fringe Festival and other local and regional tours. He has worked with many other venues and touring companies in the U.K. and Ireland, including Mirandolina (Manchester Royal Exchange), Mojo Mickybo (Lyric Hammersmith), Borderland (7:84 Theatre Co), Da (Art NI) Revnge, Lally the Scut (Theatre Co.), Oh What a Lovely War, Threepenny Opera, Blue Remembered Hills, The Government Inspector (Bruiser Theatre Co). Michael's television and film credits include: Last Man Hanging, Fairytales, Number 2's (BBC), Keith Lemon the Movie (Generator Films), High Rise (Recorded Picture Co.) and The Tudors (HBO). Michael has appeared in two seasons of HBO's Game of Thrones as Bowen Marsh and attended the 2016 Screen Actors Guild Awards as a nominee for Best Drama Ensemble. He likes to fly planes too . . . . . . . thank you to Mum, Dad and Claire. Conan. Number 1. Never forget .