"Get Him To The Greek" Red Band Trailer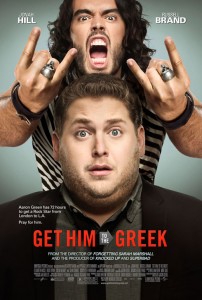 I'm calling it right now, this movie is going to have people split down the middle. It will all come down to if you like Russell Brand's brand of comedy. Jonah Hill and the rest of the Apatow gang that appear in the film will probably be enough to entertain people. Although, Brand has a polarizing personality which will leave many wondering what the hell is going on. I'm looking forward to it.  Sometimes you just have to enjoy a slightly stupid comedy, and just laugh. Not everything has to have deeper meaning, and sometimes the motive is just to entertain.
Synopsis:
An ambitious intern at a record company, Aaron Green (Jonah Hill) gets what looks like an easy assignment: Escort British rock legend Aldous Snow (Russell Brand) to L.A.'s Greek Theatre for the first stop on a lucrative comeback-concert tour. Snow , however, has different plans. Learning his true love is in California, the rocker vows to win her back before starting the tour, forcing Aaron to pull out all the stops to get Snow onstage in time.
Cast: Jonah Hill, Russell Brand, Rose Byrne, Sean Combs, Elisabeth Moss
Director: Nick Stoller
Genres: Comedy
Release Date: June 11, 2010