Jennifer Lopez Starring in "Overboard" Remake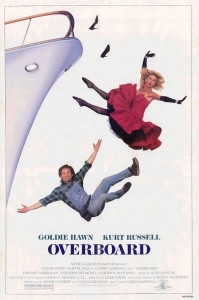 There was once a time that almost everything that came out of Hollywood was a new product, these days it seems that remakes are spreading virally. The latest in the series of ill advised remakes and reboots? A remake of the the 1987 comedy Overboard starring Goldie Hawn and Kurt Russell.
In the original film, Hawn plays a spoiled stuck up socialite who falls overboard and loses her memory.  Russel's character convinces her that she is his wife, and the mother of his children. Her whole life is turned upside down by the crazy life she must endure at the hands of his family.
The original film was directed by Garry Marshall.  So far there is no director attached to the new film. Doing the remake's script will be Adam Cooper, Bill Collage, and Leslie Dixon. Will Smith is one of the producers attached to the film.
I really don't see any way this is a good idea. J-Lo is no longer the A-list star she thinks she is, and remaking a comedy that wasn't that funny to begin with just seems like a good way to waste some money.