Box Office Report: George Clooney's "The American" Outdraws "Machete" on Labor Day Weekend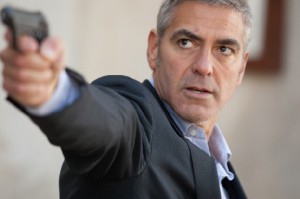 Three new films entered the box office arena this Labor Day Weekend, and The American emerged victorious.  The spy-thriller starring George Clooney took in $16.7 million domestically during the four day weekend to be crowned champ. That isn't to say it isn't without its troubles. The film had one of the most awful exit scores in recent date. Ticket buyers over the age of 25, which accounted for 88 percent of the audience, and all the women who saw it scored it an F with CinemaScore. Currently, the film sits at a D- on CinemaScore, marking one of the worst rated audience films to hit number one.
With a take of $14.1 million domestically Machete targeted about average for the genre. The gross is stronger than Gamer from the same time period last year, and the film came in right about the same as the series where it got its start, Grindhouse. Machete was helped by a large male audience, and a particularly strong support from Latino audiences, which accounted for 60 percent of the gross.
Bombing this weekend was the Justin Long and Drew Barrymore romantic comedy Going the Distance.  The film took in a pitiful $8.5 million in four days. Going the Distance has been the latest in a series of romantic comedies to come below expectations, including The Switch which had a similar showing a few weeks ago.
Takers continued to show better than many had expected. The film was primarily a late summer dump, but has tacked on another $13.5 million domestically bringing its total to an impressive $40  million. The low budget action film has defied expectations, and is one of the wins of the summer.
Overall business was up four percent from last year, but that could be mainly due to a rise in ticket prices. The next week promises to be a bit slower with Resident Evil: Afterlife being the only new wide release.
Check out the Top 12:
TW
LW
Title (click to view)
Studio
Weekend Gross
% Change
Theater Count / Change
Average
Total Gross
Budget*
Week #

1

N

The American
Focus
$16,662,333

–

2,823

–

$5,902

$19,806,118

$20

1

2

N

Machete
Fox
$14,102,888

–

2,670

–

$5,282

$14,102,888

$20

1

3

1

Takers
SGem
$13,535,992

-34.0%

2,206

–

$6,136

$39,986,817

$32

2

4

2

The Last Exorcism
LGF
$8,750,191

-57.0%

2,874

–

$3,045

$33,522,575

$1.8

2

5

N

Going the Distance
WB (NL)
$8,508,290

–

3,030

–

$2,808

$8,508,290

$32

1

6

3

The Expendables
LGF
$8,317,824

-12.7%

3,398

–

$2,448

$93,885,594

$80

4

7

5

The Other Guys
Sony
$6,664,628

+6.0%

2,607

-574

$2,556

$108,130,839

$100

5

8

4

Eat Pray Love
Sony
$6,175,610

-9.4%

2,663

-445

$2,319

$70,279,644

$60

4

9

7

Inception
WB
$5,884,355

+20.7%

1,704

-366

$3,453

$278,457,609

$160

8

10

8

Nanny McPhee Returns
Uni.
$4,806,685

+2.0%

2,708

-90

$1,775

$23,672,660

$35

3

11

13

Despicable Me
Uni.
$4,047,680

+41.5%

1,600

-233

$2,530

$241,498,630

$69

9

12

6

Vampires Suck
Fox
$3,941,945

-24.5%

2,434

-799

$1,620

$33,240,602

$20

3