Galifianakis as Humpty Dumpty in 'Puss in Boots' film?
I hate to be one of those guys who says "I've been a fan of (insert trendy band or actor here) since before he was big.", but I guess I am. I have been following Galifianakis for about ten years now. I had tickets to his first show during his short lived late night show, "Late World with Zach". I have seen him twice live, the first was in 2001. I have been telling people for years that this guy is going to be big. It looks like I finally get to say "I told you so!".
With his breakout performance in The Hangover this summer, Galifianakis is signing up for all types of projects that come his way. This time instead of having to choose anything that comes his way (remember Tru Calling anyone?), he gets his pick of the litter. Looks like he might be making a short foray into the animated world with the spin-off of Shrek, Puss in Boots.
From THR.com
---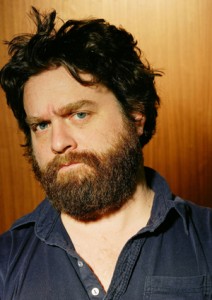 Zach Galifianakis has had a great fall.
Following his big splash with summer's $461 million grosser "The Hangover," Galifianakis has scooped up a batch of film roles. Now, he's entered negotiations to voice the Humpty Dumpty character in "Shrek" spinoff "Puss in Boots."
Tom Wheeler is writing the screenplay for the prequel, which will feature the voices of Antonio Banderas and Salma Hayek in a story about the events leading up to the feline assassin's first meeting with Shrek & Co. in the second film.
Chris Miller, who co-directed and co-wrote "Shrek the Third," wrote an earlier draft of the "Puss" screenplay and is directing the DreamWorks Animation movie.
"Puss" is set to unspool in Nov. 4, 2011. The character Puss in Boots also co-stars in DWA's fourth installment of "Shrek," May 21 opener "Shrek Forever After."
Repped by CAA and Brillstein Entertainment Partners, Galifianakis recently joined the casts of the Jay Roach-directed Paramount/DreamWorks/Spyglass comedy "Dinner for Schmucks"; Warner Bros.' Todd Phillips-helmed laugher "Due Date," opposite Robert Downey Jr.; the Ryan Fleck-Anna Boden-directed drama "It's Kind of a Funny Story" from Focus Features; and a sequel to "The Hangover," which Warners has tagged for summer 2011.
The HBO series "Bored to Death," on which Galifianakis appears, recently was renewed for a second season.
---
It is nice to see someone as funny as Galifianakis finally make it. If you've ever seen his stand up act, you'd probably see that he is an act that not everyone gets. He is great at making the audience feel uncomfortable, and really does a style of comedy no one does. I'm glad to see he can switch over to more common roles, and still get his quirk worked into his performance.
The only downside I can see to this is that his shows will be even harder to get into now, and even more expensive.