The Future of the St. Louis Cardinals is Just Under Four Hours Away
As the summer draws to a close, many families are looking for that one last mini-vacation to take over the Labor Day weekend.  Going to the lake, camping, or heading up to Chicago are pretty common destinations for St. Louis residents.  I want to offer another option:  Springfield, Missouri.  More specifically Hammons Field, home of the Double-A affiliate Springfield Cardinals.
My trips to Hammons Field initially began nine years ago as an ad-hoc family reunion and have since evolved into yearly trips (sometimes multiple times a year) down highway 44 to watch minor league baseball.  I've been to many minor league stadiums over the years, but enjoy Hammons Field best and would be remiss if I didn't share this jewel with the rest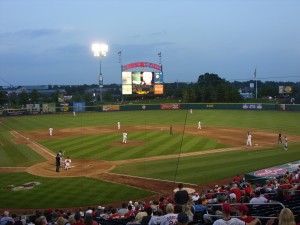 of Cardinals Nation.  It is a small open air stadium with a capacity of around 8000 people that provides great opportunities to interact with players and view the game.  Attending a minor league game gives fans the opportunity to watch prospects and future MLB players develop their skills.  Just over the past few years Hammons Field has housed players like Matt Carpenter, Allen Craig, David Freese, Shelby Miller, and Lance Lynn to name a few.  After a sensational 2012 season in which the AA Cardinals were the Texas League Champions, this year's club is currently battling for a spot in the Texas League playoffs, only one game back of the Angels AA team, the Arkansas Travelers.  The current roster provides a great look at the future of baseball in St. Louis.  Of the top 20 prospects ranked by MLB.com in the Cardinals' system, four players are currently on the major league roster; the other 16 players are spread out among the 8 farm system teams.  Five of those 16 are on the Springfield Cardinals' Roster:  Stephen Piscotty (ranked #10), James Ramsey (#13), Seth Blair (#14), Tim Cooney (#17), and Tommy Pham (#20).   [See below for more on Cardinals' prospects]
Even if you don't care about seeing these prospects Hammons Field has something that all ages will enjoy.
For the Kids:  Two mascots, Louie (similar to Fredbird) and Fetch are constantly roaming the stadium and are usually very accessible for pictures, hugs, or high fives.  There are also three play areas, a basketball court and bounce house down the left-field line, and an inflatable slide and skill games down the right-field line.  A $5 daily pass gives your child unlimited access to all those activities for the duration of the game.  There is also a free playground inside the stadium on the main concourse behind first base.
For the Kids At Heart:  An excellent opportunity to interact with players and get autographs.  For the first 20-30 minutes each gate is manned by one or two players on hand to sign autographs, take pictures, or even just say hi and shake hands.  If you can't make it right at open, head down the left-field line to where players and coaches line up to greet fans.  Every game I have attended, there has been at least 10 players who come over to the seating area to sign autographs, hug fans, or engage you in conversation–and seem genuinely happy to do so.  There is also an excellent promotion schedule throughout the season, featuring bobbleheads, statues, memorabilia and apparel.  Many of the promotions are the same that were featured at Busch Stadium, so if you were unable to attend a game here, you often have a second chance to get a giveaway.
For the Adults:  Price!  One word really can sum it up.  Tickets start at just $6.  If you want to sit right behind home, be prepared to shell out a whopping $15.  What about the first row down the left-field line?  $9.  If you are used to paying Busch Stadium prices, the affordability of tickets in Springfield is almost comical. What's better is that every seat in the house is in foul ball territory.  There are also some great All-Inclusive areas as well.  The Redbird Roost and the Champions Club both come with all you can eat baseball-style food.  Concession stands are generally cheaper as well.  You can expect to pay about 60% of the price for a similar item as what you would pay at Busch Stadium.
For those of you who follow me regularly, you are probably wondering where all the stats are.  So to appease my normal readers, I thought I would also include some updates on the other Cardinals' top minor league prospects throughout the entire farm system.  Unfortunately the word "injured" appears frequently on the Cardinals' list.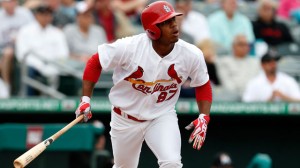 #1  Oscar Taveras (DL – Memphis)  The Cardinals' top prospect and number 2 overall in all of baseball has been compared to Albert Pujols in terms of star potential.  Taveras is a true 5-tool player who is going to be a fixture in the Cardinals' outfield for years to come–just not this year.  The 21-year-old Taveras played in 46 games for Triple-A Memphis before suffering an ankle injury that landed him on the DL.  The ankle did not respond to treatment the way team doctors would have hoped, causing Taveras to undergo season-ending surgery.  Prior to going on the disabled list, Taveras was hitting .306 with 5 homeruns and 32 RBIs.  He should be ready for next season's spring training and will likely compete for a spot on the major league roster.
#2 Michael Wacha & #3 Carlos Martinez (St. Louis) At this point I don't think many people consider Wacha or Martinez "minor league prospects" any longer.  Both have spent significant time in the majors and at this point in the season (September roster expansion is just days away) it is unlikely that either will be sent back to Memphis.  Wacha at times has been impressive, averaging over a strikeout per inning, and at times has been knocked around some, giving up 27 hits and four homeruns in 29.1 innings.  Martinez, who will turn 22 next month, has also had some growing pains at the major league level.  He has had a hard time fooling major league hitters who are batting .302 off  him, leading to an ERA over 6.00 and a WHIP (walks and hits per inning pitched) of 1.63.
#4 Kolten Wong (St. Louis) Wong has been regarded by Cardinals' fans as the long-term solution at second base–at least prior to the emergence of Matt Carpenter at the position.  Wong will still likely be in the middle infield equation in the future, especially if the Cardinals are unable to work out a deal with current third baseman David Freese.  This season at Triple-A Memphis, Wong has played in 107 games and batted .303 with 10 homeruns and 20 stolen bases.  Earlier this week, Wong was called up to join fellow prospects Michael Wacha and Carlos Martinez on the major league roster.
#5 John Gast (DL – St. Louis) Cardinals' fans may remember the 24-year-old left-handed pitcher from his brief appearance early in the season following Jaime Garcia's injury.  Gast started three games for the Cardinals, going 2-0 and holding opponents to a .234 batting average before injuring his throwing shoulder 6 batters into his third start.  On May 26th the Cards placed him on the disabled list, expecting that he was going to be out about a month.   After a lack of progress in healing, Gast underwent season-ending surgery in July but should be ready to go by next spring training.
#6 Michael Blazek (Memphis) Blazek was red hot at the start of the season as the closer for Double-A Springfield.  In 17 games, Blazek had an ERA under 1.00, struck out 25 batters in 19.2 innings, and held opposing batters to a .157 average.  This earned him a call up to the majors when Gast was placed on the disabled list.  His time in St. Louis, however, was not nearly as effective.  He appeared in 10 games for the Cards with an ERA over 8.00 and averaged more than a walk an inning.  Currently Blazek is in Triple-A Memphis where he has a 2.42 ERA in 17 games with 26 strikeouts and 11 walks in 22.1 innings.
#7 Tyrell Jenkins (DL – Palm Beach) The 21-year-old Jenkins has an impressive fastball (a popping 98 MPH with sinking action) that someday could fit him into the starting rotation.  Both his curve and changeup are considered above average pitches as well.  Jenkins ended a disappointing season in the Single-A baseball when he was forced to undergo season-ending shoulder surgery a few weeks ago.  Prior to the surgery, Jenkins went 4-4 with an ERA of 4.70 while striking out 40 batters but walking 25 in just under 60 innings pitched.
#8 Marco Gonzales (Palm Beach) Gonzales was the Cardinals' first-round draft choice (19th overall) earlier this year in the June draft.  The Cardinals signed him two weeks later and he has since been at the Single-A level for his shortened season.  So far the left-handed starter has struck out 23 batters in 23 innings and held opposing hitters to a .212 average.  Lefties move through the system, so I would not be surprised to see him start the year at the Double-A level next year.  He throws a low 90s fastball and has a curve and changeup that he mixes in as secondary pitches.
#9 Carson Kelly (State College, NYP League) Kelly was the Cardinals' second-round draft choice (86th overall) in the June 2012 first-year player draft and was considered the top player in the Pacific Northwest region in 2012.  Kelly was planning on attending University of Oregon before the Cardinals drafted him right out of high school.  He just turned 19 last month and is a former member of the 16U and 18U USA National Team.   He has spent this season playing for the organization's Low-A affiliates State College and Peoria.  Combined between the two he is hitting .267 with 5 homeruns and 42 RBIs in 102 games.
#10 Stephen Piscotty (Springfield) Piscotty was the Cardinals' first-round draft choice (36th overall) in the June 2012 first-year player draft.  Piscotty was drafted out of Stanford and projects to be a top hitting prospect.  He has been described as a line drive gap hitter who probably won't have much power but could hit around .300 with 10 homers on the major league level.  Think Matt Carpenter from the right side of the plate.  His offense appears to be solid, but his defense is a question.  Originally a third baseman, he was moved to the outfield because he was considered to be a below average fielder at the hot corner.  He does have a strong throw, ranked as the best outfield arm in the Cardinals' farm system.  Currently Piscotty is at the Double-A level, having moved up after a very strong early season at High-A Palm Beach.  For the year, Piscotty is batting .283 with 14 homeruns, 21 doubles, and 55 RBIs in 104 games.
I hope everyone enjoys these last days of Cardinals baseball.  Whether taking in a major- or minor-league game, you are sure to see our boys of summer playing well into the fall.