"Free Willy: Escape From Pirate's Cove" on Blu-ray and DVD March 23 – Enter to Attend the Screening!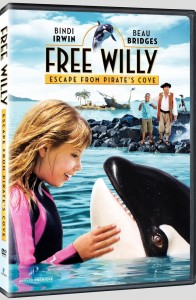 "Free Willy: Escape From Pirate's Cove" is coming to Blu-ray and DVD on March 23! You have the chance to attend the screening at the The World Aquarium in the City Museum!
To enter the contest, have your kids leave a comment below with their favorite animal and why. Select families will be drawn at random and will be chosen to attend the screening!
SYNOPSIS:
Eleven-year-old Kirra (Bindi Irwin) has a great love for all animals as the daughter of a widowed zoo veterinarian in Australia.  But when her father is injured and must be hospitalized for several months, Kirra is forced to go stay with her estranged grandfather, Gus (Beau Bridges), in South Africa.  Kirra doesn't want to leave her father's side, especially to stay with a grandfather she barely knows in a strange country.  Arriving in South Africa, Kirra is even more disheartened to discover that Gus is the owner of a dilapidated seaside theme park, which is quickly losing its few customers to rival park owner Rolf (Stephen Jennings).
Gus' business is given a miraculous boost though when a fierce storm traps a baby orca whale in his lagoon, turning his park into the area's main attraction.  The growing orca, named Willy, has an inhibited sense of echolocation making his survival in the wild, apart from his pod, impossible.  But Kirra also realizes that the orca will outgrow the lagoon very quickly.  Gus thinks his only choice is to sell Willy to Rolf's successful park, where the orca will be safe…but forever captive.
With time running out before Rolf claims him, Kirra must not only locate Willy's pod, but also find a way to teach the young whale to survive and be free in the open sea.

WORLD AQUARIUM MISSION:
The World Aquarium's mission is to increase the understanding of aquatic life and environments of the world, enable people to conserve the world of water, and provide leadership for the preservation and sustainable use of aquatic resources. In conjunction with the Conservation for the Oceans Foundation, we strive to give support to sustainability of ocean resources and achieve a decrease in pollution activities through our mission to inspire mechanisms for better environment understanding.
For more information on the World Aquarium, visit their official website at worldaquarium.org.