Avatar to Blu-Ray and DVD April 22nd (Earth Day)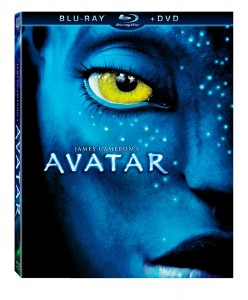 The LA Times got the details on the first release, yes there are at least two more planned, of Avatar on home video. This first release on April 22nd is a movie only disc on both Blu-Ray and DVD. This is being done for optimal A/V specs and should come as no surprise that they are planning on double dipping in the future. Wait, make that triple dipping.
This fall, just in time for Christmas, will be the end all special edition, unless you want 3-D, and will probably feature the exact same disc you bought in April plus a bonus disc or two.
Then sometime in 2011-12 they will release the film again in 3-D and probably even more new extras. Cash grab. What I don't get is why not make the fall release 3-D, the discs are backwards compatible with 2-D players and will run in 2-D just fine. Then when you upgrade to 3-D you are protected and already have the number one 3-D title, plus you release the 3-D movie this fall to push sales of 3-D this Christmas. But that just seems to make too much sense.
It looks like the Blu-Ray version this April will include the DVD as well, so at least they aren't totally screwing us.