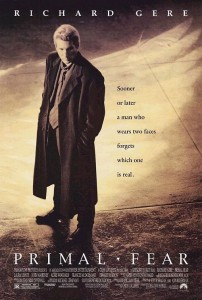 Primal Fear (1996)
Starring Richard Gere, Edward Norton
Arrogant, brilliant and successful, criminal defense attorney Martin Vail loves a good fight and the media spotlight, both of which he knowingly invites when he volunteers to represent a penniless, bewildered young man accused of murder. The victim is one of Chicago's most prominent dignitaries, a Catholic archbishop, and the defendant's guilt seems as evident as the blood found splattered on his clothes. But Vail doesn't concern himself with questions of guilt or innocence. All he cares about is creating and selling his version of the truth. All he cares about is winning. As his involvement with his client deepens, however, Vail's consuming need to win, his antagonism toward his former boss in the prosecutor's office, his complicated relationship wtih his recent lover who is the prosecutor in this case, and his unexpected feelings for his client, combine to blind him to the trap awaiting him.
Not a bad movie for free if you haven't seen it.