Harry Potter has a Magical $160 Million Opening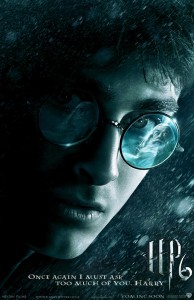 Harry Potter and the Half-Blood after it's amazing $22 million dollar night in midnight screenings went on to gross an estimated $159.7 through the weekend.  This is so far the best start to the popular franchise.  Half-Blood Prince looks on pace to easily surpass the previous installment Harry Potter and the Order of the Phoenix.
The Potter series is expected to surpass the James Bond series in total gross with this film to become the biggest film franchise of all time. Cementing it's place in cinematic history with overall impressive domestic and foreign grosses.
Last weeks moneymaker Bruno fell a staggering 73% grossing only an estimated $8.4 Million falling to the fourth spot in the weekend. This is a huge drop for the Sacha Baron Cohen film, and makes it less likely that it will surpass the comedy powerhouse that was Borat.
Among other holdovers for the weekend, The Hangover continued it's very impressive run adding another estimated $8.3 million to bring its total to an estimated $236 million.  It's surprising run makes it the highest grossing film of it's genre. The breakout hit has already had talks of an eventual sequel.
Both Ice Age: Dawn of the Dinosaurs and Transformers: Revenge of the Fallen both performed solidly with estimated grosses of $17.7 million and $13.7 million respectively.
So, everyone what are your thoughts on the box office this year? Which of these films are deserving of their grosses and which are not?