FOX's "American Idol" 2011 Season 10 Finale
American Idol Finale (5/24/11)
The Performances
Three songs tonight: The first being the contestants favorite from the season, second being the contestants idol choosing the song, and the third being their potential first single
Set List
First Song (Contestants Favorite)
Scotty McCreery "Gone"- About as good as it was the first time. One of his performances that I thought gave him his swagger and he did a good job the second time as well.
Lauren Alaina "Flat On The Floor"- One of her performances that I liked from earlier in the season and the second time didn't disappoint either.
Second Song (Idol's Idol Pick)
Scotty McCreery "Check Yes Or No"- George Straight picked one of his own songs for Scotty. I didn't care for this performance at all
Lauren Alaina "Maybe It Was Memphis"- Carrie Underwood picked this Pam Tillis song for Lauren. I didn't absolutely hate this performance but she needs something better than this for the title
The Judges finally give their opinion after two songs and its pretty much a consensus that Scotty won the first round and Lauren won the second round….and then Steven gives both rounds to Lauren because she's and I quote "Prettier than Scotty"
Throw in the Taio Cruz song written by the fans as a filler
We also got a new "Smurfs" trailer which for some reason got me excited to see it
Third Song (Potential Single)
Scotty McCreery "I Love You This Big"- His tribute video in the background was a good touch for this song. With that being said, this was actually one of the only performances that I have liked from this guy.
Lauren Alaina "Like My Mother Does"- Point blank her best performance EVER!!!!! This song may have just gotten her the title.
When they started they just passed through the judges speaking and I really enjoyed not hearing from them and then we found out that when they got their chances to speak Randy has to say "In It To Win It" more times to account for not being able to speak in the early parts.
Grades (First / Second / Third / Overall)
Scotty McCreery (B+ / B / A- / B+)
Lauren Alaina (B+ / B / A+/ A)
After two rounds I myself said that this was way too close to call and then they came out and did a third song and the competition got a lot more spread out.
Lauren absolutely blew me away, for the first time I might add, and I think after her performance of "Like My Mother Does" it will be a disgrace if she doesn't win. I might also add that she was having vocal problems throughout rehearsals and could barely speak when Ryan tried to talk to her. TMZ (The story) actually reported that she didn't even rehearse the third song on stage, which makes the performance all the much better.
Scotty came out and did what Scotty does but it just wasn't enough for me. Going in I thought it was Scotty's to lose and within one round he had done just that…In my opinion. Now I've been wrong multiple times this season but I truly think that I am right when I say that Lauren Alaina is your next American Idol!!!
This week they're giving you four hours to vote so with two hours left on the clock I think everyone should get out there and vote vote vote……for Lauren!!! Or whoever else you think could win this competition. The Two Hour Finale is tomorrow night at 7 p.m. cst and it is shaping up to be one heck of a finale with……..well I have no clue what to expect from the finale because they have that information on complete lockdown, but I will be tuning in because they never disappoint on the final show of the season and plus I got to know who is the winner of American Idol Season 10!!!!!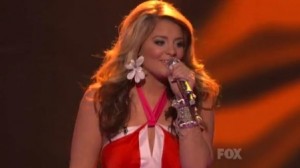 VS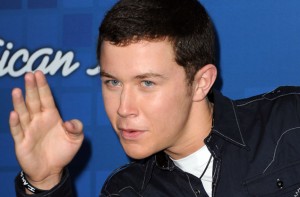 So, Who you got in the finale Scotty or Lauren?