For Colored Girls
Review by the Raven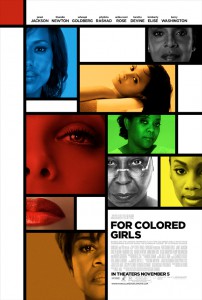 I was moved and surprised by the depth that Tyler Perry was able to bring to this film.  Originally named "For Colored Girls Who Have Considered Suicide When the Rainbow is Enuf", it is a story adapted from a choreopoem written by Ntozake Shange in 1975.  It is a story told in verse about seven women, only known as a color like red, yellow, etc.  The poems revolve around rape, love, abortion and coming together as individuals and as a group of strong women.  Each woman has something to lose and something to give in return.  It has been on Broadway, as well as playing all over the country for many years.  Tyler Perry took a chance and ignored people telling him he was not the right director for this amazing project.  I for one am sure glad he ignored them!
Perry has gathered a stellar cast (with Phylicia Rhashad, Whoopi Goldberg, Janet Jackson to name a few) to turn these poems into a cohesive story revolving and intersecting the lives of these women and telling the poems to each other as each story unfolds.  Perry was careful to incorporate colors into each woman so he stayed true to the poetry while letting each actress wow us with the depth of their emotions.  Don't expect to see men in a very good light thru the entire film.  Only one man seems to be with any morals and character.  Remember, this is a movie about women and their dependence on men is frowned upon.  Strength is found in the women and their cohesion to each other.
Filmed in New York City, the movie really uses the city to backdrop each woman in her essence and to help tell her story.  Each person's place is rich in texture and color that matches each woman.  I was so surprised that Mr. Perry could do a film like this.  And don't expect it to be easy to watch.  He deals with real situations that don't always have a perfect ending.  Newcomers like singer Macy Grey and actress Anika Noni Rose really stand out in their characters.  The movie is a bit long, but it seems Perry was trying to stay as true to the poems as possible and it has a wonderful effect.
Review (c) 2010 Stephe Raven | [email protected]