"Footloose" Remake Review Starring Kenny Wormald, Julianne Hough and Dennis Quaid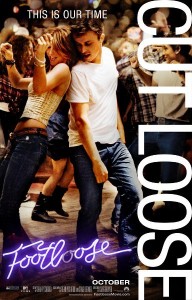 Footloose, opens much like the original – with kids in a small town dancing to the musical strains of Kenny Loggins. How small is this town, you ask? It's so small that the kids who live there still dance to Kenny Loggins. Honest to God…Kenny Loggins. When tragedy strikes after one of their adult-contemporary inspired bacchanalias, the town passes a series of draconian laws culminating with a ban on dancing. (Yet Kenny Loggins walks free.) Into this madness walks our hero Kenny Wormald as Zac Effron, ummm, I mean…as Ren MacCormack, a recently orphaned teenager from the big city who loves to dance and isn't afraid to break the rules. Well, as long as the rule in question is a poorly thought-out reactionary one.
For the people concerned about having their memory of the original tarnished, might I suggest that perhaps you haven't seen the original in a while? It's a good film; enjoyable even. But Singin' in the Rain it is not. That being said, this film is remarkably faithful to its predecessor. I suppose that shouldn't come as a shock given that the screenplay is co-written by Dean Pitchford, the writer of the original. So Ren still falls in love with the preacher's daughter (Julianne Hough), he still has redneck friend (Miles Teller) who can't dance, he still plays a game of chicken with his nemesis and, perhaps most importantly of all, he still wears a red velvet jacket to prom. Even the soundtrack is remarkably similar, spotlighting four of the songs from the original. Granted, Dennis Quaid, as the preacher who spearheads the dancing ban, is two-dimensional but that's one more dimension than John Lithgow brought to the role. But Miles Teller, as Wren's dancing-impaired sidekick, steals every scene he's in.
Look, it'd be real easy for me to "snark up" the joint on a movie like this. (I think I kinda just did actually.) It's earnest. The anachronistic soundtrack is nothing like what people today actually dance to. Wormald's haircut looks like he's auditioning for a community theater production of Grease 2. And a generation of kids forbidden from dancing throws off the shackles of oppression and instantly transforms into the cast of Rent. But this movie isn't for the present-day me. It's for the 15-year old me. And you know what? The 15-year old me…well, he kinda loved it. The film was fun and, at times, funny. The dancing scenes have been Step Up–ified for a modern audience (yeah, that's a word now). And if you can check your nostalgia fueled skepticism at the door, you might actually find yourself having a good time.
On a scale of 1 to 10, with 10 being the original Footloose and 1 being It's Flashbeagle, Charlie Brown, Footloose gets a 7.
[hdplay id=425]