First "Real Steel" HD Trailer Starring Hugh Jackman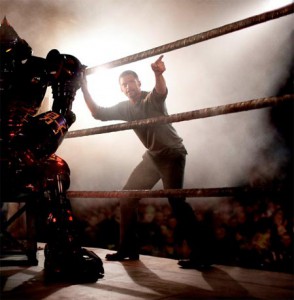 So, here is the first trailer for Hugh Jackman's Real Steel, and to be honest, I'm not that impressed.  There is just something about robotic boxing that just doesn't look that appealing. This is coming from a guy who is a sci-fi nerd, and if I got to see robots battle in real life I'd be stoked. I just worry that having robot boxers will over the power of Jackman's story arc, and it will be hard to see his character struggle.
Although, I've been wrong before, so let's hope that is one of those times.
Synopsis:
Charlie Kenton is a washed-up fighter who lost his chance at a title when 2000-pound, 8-foot-tall steel robots took over the ring. Now nothing but a small-time promoter, Charlie earns just enough money piecing together low-end bots from scrap metal to get from one underground boxing venue to the next. When Charlie hits rock bottom, he reluctantly teams up with his estranged son Max to build and train a championship contender. As the stakes in the brutal, no-holds-barred arena are raised, Charlie and Max, against all odds, get one last shot at a comeback.
Starring: Hugh Jackman, Dakota Goyo, Kevin Durand, Anthony Mackie, Evangeline Lilly
Directed by: Shawn Levy
Produced by: Steven Spielberg, Mary McLaglen, Josh McLaglen
Genres: Kids/Family, Science Fiction/Fantasy and Sports
Release Date: November 18th, 2011 (wide)
[hdplay id=217 width=595 height=375]