First Poster for Marvel's "Thor"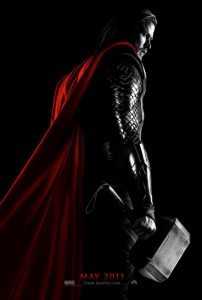 Marvel has been pretty ambitious with their cohesive Marvel world.  Time will tell if it will all pay off.  The first Iron Man film was a massive success, but the sequel left most wanting more.  Thor is the next film the studio is releasing with Captain America following a month later.  Many are interested to see if Marvel can come back from Iron Man 2 with a great film. 
After a couple of production stills and some grainy Comic Con footage, we are finally given our first poster for the film.  It is not nearly as epic or grand as some of the stills we have seen thus far, but I think it is what a teaser poster should be.  I think it will please fanboys while also raising some buzz for general audiences.
The Mighty Thor, a powerful but arrogant warrior whose reckless actions reignite an ancient war. Thor is cast down to Earth and forced to live among humans as punishment. Once here, Thor learns what it takes to be a true hero when the most dangerous villain of his world sends the darkest forces of Asgard to invade Earth.