First Pictures of Seth Rogen in the Green Hornet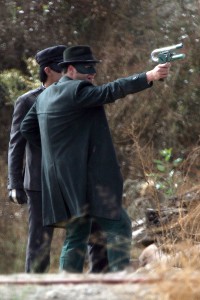 Check out the first new pictures of Seth Rogen as the Green Hornet!
From Wikipedia.org:
The Green Hornet is a fictional masked crime fighter. Originally created by George W. Trendle and Fran Striker for an American radio program in the 1930s, the character has appeared in other media as well, including film serials in the 1940s, a network television program in the 1960s, and multiple comic book series from the 1940s to the 1990s. Though various incarnations sometimes change details, in most incarnations the Green Hornet is Britt Reid, a newspaper publisher by day who by night goes out in his masked "Green Hornet" identity to fight crime as a vigilante, accompanied by his similarly masked Asian manservant Kato and driving a car, equipped with advanced technology, called "Black Beauty". The Green Hornet is often portrayed as possessing fair to above average hand-to-hand combat skills and is often armed with a gun that sprays knock-out gas (a sonic blast weapon called the "Hornet's Sting" was added to his arsenal for the TV series).
Originally, the show was to be called The Hornet, but the name was changed to The Green Hornet so that it could be more easily trademarked. The color was chosen because green hornets were reputed to be the angriest.
One relatively minor aspect of the character which tends to be given limited exposure in the actual productions is his blood relationship to The Lone Ranger, another character created by Striker. The Lone Ranger's nephew was Dan Reid. In the Green Hornet radio shows, the Hornet's father was likewise named Dan Reid, making the hero the Ranger's grand-nephew.
The Western property was sold to another company in the 1950s, a legal complication that resulted in the identity of the Masked Rider of the Plains being obscured when it has been dealt with at all in Green Hornet depictions (though a comic book from NOW Comics later displayed the Hornet's living room as being decorated with a painting of a man dressed very similarly to the Lone Ranger; the radio series had expressly indicated the presence of such a portrait there).
During World War II, the radio show's title was used as a codename for SIGSALY, secret encryption equipment used in the war. "The Green Hornet" also became a popular nickname for General George S. Patton, due to the unique and attention-getting uniform that he proposed for tank crews, which featured a gold-painted football helmet. Supposedly, while Patton was testing it after development (which he funded out of his own pocket), one Army trooper said "Look! It's the Green Hornet!" and the name followed Patton for years.
Seth Rogen as Britt Reid/Green Hornet
Jay Chou as Kato
Christoph Waltz as Chudnofsky
Cameron Diaz as Lenore Case
Release Date: December 17, 2010