First Look at the A-Team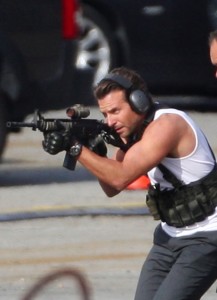 Here is the first look at the all new A-Team.
From Wikipedia:
The A-Team is an American action adventure television series about a fictional group of ex-United States Army Special Forces who work as soldiers of fortune while being on the run from the military for a "crime they didn't commit". The A-Team was created by writers and producers Frank Lupo and Stephen J. Cannell (who also collaborated together on Wiseguy, Riptide and Hunter) at the behest of Brandon Tartikoff, NBC's Entertainment president.
Despite being thought of as mercenaries by the other characters in the show, the A-Team always acted on the side of good and helped the oppressed. The show ran for five seasons on the NBC television network, from January 23, 1983 to December 30, 1986 (with one additional, previously unbroadcast episode shown on March 8, 1987), for a total of 98 episodes.
It remains known in popular culture for its cartoon-like use of over-the-top violence (in which people were seldom seriously hurt), supposedly formulaic episodes, featuring the ability to form weaponry and vehicles out of old parts, and its distinctive theme tune. The show also served as the springboard for the career of Mr. T, who portrayed the character of B. A. Baracus, around whom the show was initially conceived. Some of the show's catchphrases such as "I love it when a plan comes together", "Hannibal's on the jazz" and "I ain't gettin' on no plane!" have also made their way onto T-shirts and other merchandise.
Although not directly referenced in the series, the name of the show comes from "A-Teams", the nickname for Operational Detachments Alpha (ODA). The US Army Special Forces uses the term ODA for their 12-man direct operations teams.
The new A-Team consists of:
Bradley Cooper as Lt. Templeton "Faceman" Peck
Liam Neeson as Col. John "Hannibal" Smith
Quinton "Rampage" Jackson as Sgt. B.A. Baracus
Sharlto Copley as Capt. H.M. "Howling Mad" Murdock