First Pic of Dwayne "The Rock" Johnson with Vin Diesel in "Fast Five"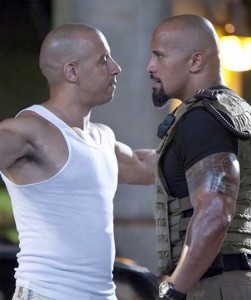 I have actually been a fan of all of the Fast and Furious films.  Yes, the acting is bad.  And the stories are predictable.  And they have steadily gotten worse.  But I think they are a ton of fun.  Dwayne Johnson seems like a perfect fit for this world, and I was pumped to see him back in a "man's" role.  But then I heard that Faster sucked so I am being not being not so excited.
The story is about Dominic and his crew finding themselves on the wrong side of the law once again as they try to switch lanes between a ruthless drug lord and a relentless federal agent.  Dominic is obviously Vin Diesel.  The federal agent is Johnson.  The film also returns Paul Walker, Jordana Brewster, Tyrese Gibson, and Ludacris.  Justin Lin returns to the directors chair after directing the last two films in the franchise.
The picture shown is the first official picture released.  The two are a little too close for my tastes, but who am I to judge.  My guess is that this is the confrontation in which Diesel yells at Johnson to either join them in taking down the drug lord or arrest him and his crew now.  That is just a wild hunch.
The trailer will hit the web tomorrow.  Check back to see it here.
What is your favorite Fast and Furious film?  Let us know in the comments below.