First Impressions: Zack Snyder's "Sucker Punch"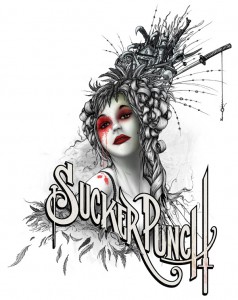 I never thought I would see the day where I was excited to see a movie that starred Vanessa Hudgens. But two things were evident when I finished watching this trailer:
Zack Snyder, director, knows how to put together a trailer. The first theatrical trailer for 300 remains my favorite trailer of all time. The Nine Inch Nails song in the background made it. While this is not as great as that trailer, this is a nice little teaser.
This thing looks absolutely nuts.
Set in the 1950s, Sucker Punch follows Babydoll (Emily Browning) who is confined to a mental institution by her stepfather, who intends to have her lobotomized in five days. While there, she imagines an alternative reality to hide her from the pain, and in that world, she begins planning her escape, needing to steal five objects to help get her out before she is deflowered by a vile man.
This short little teaser packs quite the visual punch. We have a long wait to see the movie fully fleshed out though. It's release date is March 25, 2010.
[hdplay id=83 width=595 height=375]
What do you think? Creative awesomeness or all eye candy and no substance? Let us know below in the comments.