It's the Final Countdown: 'Arrested Development' Complete Season 4 on Netflix May 26th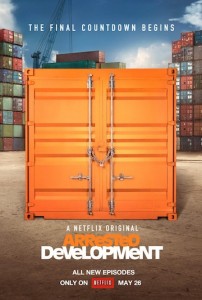 After three seasons, we lost touch with the Bluth Family when Arrested Development was cancelled in 2006. It has now been over seven years since that final airing, and Netflix is bringing us all 15 new episodes on May 26th. No agony over waiting until the next week to see what happens to your favorite character, as you'll be able to stream all of Season 4 in one marathon sitting. Start setting up those viewing parties now!
The episodes began filming last August, with a good selection of characters reprising their roles: Henry Winkler as Barry Zuckerkorn, Mae Whitman as Ann Veal (Her?), Scott Baio as Bob Loblaw, Judy Greer as Kitty Sanchez, and Liza Minnelli as Lucille Austero. The new season will also feature some new characters to be played by John Slattery (Mad Men's Roger Sterling), Terry Crews (White Chicks, Expendables, Old Spice commercials), Erin Moran (Joanie from Happy Days), and Isla Fisher (Wedding Crashers, Hot Rod, Confessions of a Shopaholic, and "Mrs. Sacha Baron Cohen").
So close down the Banana Stand, fire up the Cornballer, get cozy with your cousin on the couch, and fire up Season 1 to get those Bluth quotes fresh in your minds before May 26th!
We've made a huge mistake! There are actually 15 new episodes of @arresteddev on May 26. twitter.com/netflix/status…

— Netflix US (@netflix) April 4, 2013
Source: @Netflix
Follow us on Twitter while you're at it: @ReviewStLouis