Movie Review: 'The Green Inferno' Directed by Eli Roth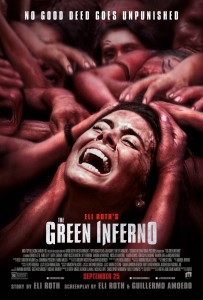 It's hard for me to find anything good to say about The Green Inferno, Eli Roth's latest offering for horror fans.
In fact, the best thing I can say about the film is that I loved the trailer for Creed.
Roth claims this film is his ode to "Cannibal Holocaust," a 1980 horror film which is considered a classic for it's snuff film-like feel.
Maybe Roth is to blame or maybe it's the MPAA, but for as much that was made of TGI's gore and violence, I felt a bit shortchanged.
Viewers are treated to a dismemberment of one of the hippies, as well as a skinning, but other than that, it was rather tame.
Yes, there is more gore, but I really found myself not caring about any of the characters,as they are all hippie douchebag's who will protest anything if it will get them notoriety.
Knowing that Roth got the idea for the film after Occupy Wall Street happened, intrigued me.
His premise was a good one, and the film could have been so much better if more time would have been invested in the characters.
The ending of the film completely sucked, as I felt like it just ended. There is also a very short scene which takes place mid-credits, but it doesn't do anything to save this turd.
Roth is a talented director, as I look at him as a less talented, poor man's Tarantino.
His debut, "Cabin Fever" remains a favorite of mine. "Hostel" keeps me from going to Europe to this day.
Roth knows horror and maybe the director's cut of this film will be better, but the story is just, well, carved up, more than some of the victims in the film.
While the acting isn't bad, it's nothing to write home about.
All in all, I would save my money for Crimson Peak, or Knock, Knock. The latter is another Roth film starring Keanu Reeves, which looks promising.
I give The Green Inferno a D-