Film Review: "The BFG" Starring Mark Rylance and Ruby Barnhill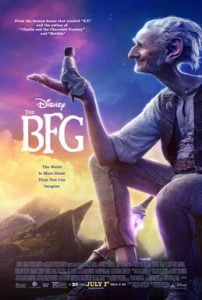 If you ask the question "What is the BFG?" to two different generations, there's a good chance you're going to get two very different responses. Growing up in the 90's as a computer gamer, my first reaction when I heard the title of the movie harkened back to my days of playing DOOM and Quake II, taking out enemies with the Big F*cking Gun.
Apparently, though, this is not what that refers to. Rather, The BFG is actually based on a children's book by Roald Dahl published in 1982. Although a previous animated adaptation came out in 1989, this effort, helmed by Steven Spielberg, is the culmination of more than 25 years of work to bring a live version to the big screen. A few of my friends read the book as children, but I went into the theater knowing absolutely nothing about it. In hindsight, I think this was a good thing.
I've never really been a huge fan of children's movies. As my friends like to bring up, I've only seen four animated (not counting Pixar or CGI) Disney films. Maybe in recent years I've tried to make up for my lost childhood by seeing more and more films aimed towards a younger audience, but I've found myself enjoying them: Wreck-It Ralph, The Lego Movie, Up, Despicable Me, and now The BFG.
One of the most interesting decisions Spielberg made was in casting a complete unknown, Ruby Barnhill, in the lead role alongside a steady, gifted veteran, Mark Rylance. It's a bit of a gamble, certainly, but Ruby nails the role as Sophie, an orphan who sees the BFG wandering the streets one night. She's frightened, yet intrigued, as the BFG takes her away from the orphanage back to Giant Country where he lives. Playing the lead role without any prior experience would usually be an overwhelming task for such a young actress, but Barnhill's in pretty good directing hands, and she absolutely nails the portrayal of a young, precocious child, curious to a fault, yet tender enough to trust a complete stranger in the hopes of making a new friend.