Film Review: 'Pitch Perfect 2' Starring Anna Kendrick, Brittany Snow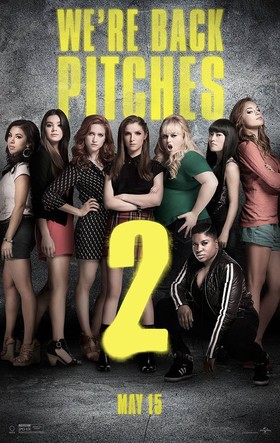 It seems like every summer, you'll see at least a couple of films dealing with college students and their experiences. These movies range in topic from sports (We Are Marshall), growing up, (American Pie 2), fraternities (Animal House, Going Greek), or a plethora of other topics.
When the original Pitch Perfect came out, it took the young audiences by storm. It was a solid blend of young stars and comedy, and the musical compositions were brilliantly executed. After making $113 million on a $17 million budget, it was inevitable a sequel would come out.
Fast forward to 2015, and the result is Elizabeth Banks' debut as director of a feature-length film. With the bulk of the core cast returning for the sequel, Banks and company deliver a sequel that adheres to the same formula as the original, but doesn't seem to come out quite right.
After the Barden Bellas claim the national title in the original film, they've managed to successfully defend their title twice. While performing at the Lincoln Center for President Obama, Fat Amy (Rebel Wilson) suffers an unfortunate wardrobe malfunction, and as a result, the Bellas are suspended from competing and recruiting.
Fortunately for them, Chloe (Brittany Snow) finds a loophole, and Beca (Anna Kendrick) convinces the authorities to reinstate the Bellas if the Bellas are able to win the World Championships. After adding legacy member Emily (Hailee Steinfeld), they seek to win the title, a daunting task, as they will be going up against the German heavy favorites, led by Kommissar (Birgitte Hjort Sørensen) and Pieter Krämer (Flula Borg), who dominate them in preliminary competition.